One Important Thing About Handling A Break-Up As A Mother, According To Angelina Jolie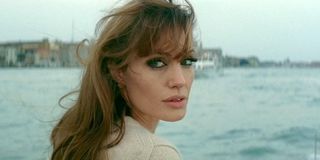 Academy Award-winning actress Angelina Jolie hasn't said a lot about her break-up with Brad Pitt, partly because their divorce is still underway. However, in a recent interview, Jolie shared some words about her new situation as a single mom with six kids. From the sounds of it, the 42-year-old star is in the thick of many of the painful emotions divorcing parents face, but she thinks it of the utmost importance to keep her spirits up to prevent her children from worrying. Jolie opened up, saying,
That is, perhaps, the saddest thing I have ever heard Angelina Jolie ever say in real life--maybe even in movies, too. (The moment in Changeling when she screams, "He is not my son!" is also pretty heartbreaking.)
Angelina Jolie told the Vanity Fair interviewer she really didn't want to talk about the divorce, but she used some loaded words to drop hints about how bad things got between her and Brad Pitt. For example, the interviewer picked up on how Jolie said the kids had to be "brave" after everything fell apart.
And how Brangelina fell apart shocked people everywhere because many people saw Angelina Jolie and Brad Pitt's relationship as one of the few Hollywood relationships with legs. They were together for a decade before marrying, but a year after the nuptials, the relationship was over. Apparently, a rift developed between Jolie and Pitt while she was in Cambodia shooting First They Killed My Father, and he was in the Middle East filming War Machine. Then, a physical and verbal altercation allegedly took place between Pitt and Jolie's eldest son, Maddox, and Jolie sent the Moneyball star packing.
Earlier this year, in Brad Pitt's "mea culpa," Pitt opened up about life after Brangelina. He indicated he had sought help for a drinking problem after he and Angelina Jolie parted ways. Jolie said it did not surprise her when Pitt gave an interview after their breakup, and she indicated the tension between them might still be there.
Of course, Angelina Jolie and Brad Pitt still share six kids together: Maddox, Pax, Zahara, Shiloh, Vivienne, and Knox. Therefore, the assumption is Jolie and Pitt are in contact insofar as visits are concerned.
Still, it sounds like Jolie is devastated about the whole situation and being tough for her kids is taking a toll on her. She talked about developing both hypertension and Bell's palsy last year, and she said her skin is in bad condition and her hair is going gray. In fact, she says the changes might be menopause or biological reactions to the enormous pressure and stress she has faced in the past year.
Meanwhile, Angelina Jolie's new movie about the Khmer Rouge genocide in Cambodia makes it clear she's moving on in her career, if not her personal life. Hopefully, she knows people are rooting for her and her family.
Your Daily Blend of Entertainment News
Thank you for signing up to CinemaBlend. You will receive a verification email shortly.
There was a problem. Please refresh the page and try again.