Thor Actor Chris Hemsworth Admits His Wife Is In Better Shape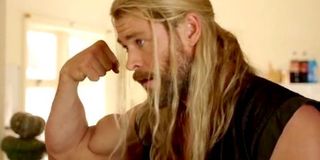 Chris Hemsworth has a superhero physique, but according to the 34-year-old star of the Thor movies, his beloved wife of six years is in even better shape than he. Hemsworth gushed about his better half, Elsa Pataky, during an interview on the red carpet at the Los Angeles premiere of his new superhero flick, Thor: Ragnarok. He gave credit where credit was due and said,
Chris Hemsworth might have one hundred pounds on Elsa Pataky, and much of his body is muscle. But one look at Pataky's social media photos, and you can see that the Spanish actress and model of Fast and the Furious fame is a force of nature. She and Hemsworth have three kids--a five-year-old daughter, India, and three-year-old twin sons, Sasha and Tristan--and she can still do this:
Thus, Chris Hemsworth and Elsa Pataky's trainer might be on to something, as Hemsworth suggested in the conversation with ET. But should we expect any less? When it comes to fitness, Pataky has written the book on the subject--like, literally, she has a fitness book called Intensidad Max. In fact, this is the same woman who once indicated to Women's Health Australia that exercising is like an addiction. In the past, she has also shared that her workout routine included an intense mix of hardcore strength training along with Muay Thai, pilates, and yoga multiple times a week. No wonder she is in such incredible shape. Speaking of yoga, here is Pataky getting her stretch on (while the family's pet pig sees what Mom is doing):
Still, if Chris Hemsworth's trainer thinks Elsa Pataky is in better shape than Thor himself, it must mean Pataky is doing some insane workouts she is not sharing on social media. After all, Hemsworth has shared some pretty intense moments from the gym to show what it takes to get in superhero shape. Need an example? Check out this crazy gym video Hemsworth recently posted:
See? If Chris Hemsworth and Elsa Pataky's trainer thinks she is the one in better shape, it is a pretty big compliment. Maybe one day the two of them can post some videos of themselves training with each other or other stars like Britney Spears and Jim Parsons, who also love sharing their workout prowess with their fans and followers online.
Your Daily Blend of Entertainment News
Thank you for signing up to CinemaBlend. You will receive a verification email shortly.
There was a problem. Please refresh the page and try again.