Paris Jackson Shows Off Chest Tattoos In New Topless Pic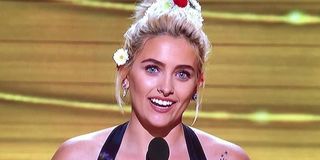 Paris Jackson has been letting her fans and followers on social media know just how much she loves the skin she is in by posting nude and topless pictures of herself this year. Now the 20-year-old daughter of late pop icon Michael Jackson is back with another revealing photo sans shirt and pants. This time, the camera gets up close and personal and shows the body-ink fan's tattoos from some new angles. Have a look:
Nothing comes between Paris Jackson and her Calvins--well, except her tattoos. Jokes aside, Paris Jackson has a great partnership with Calvin Klein. Not so long ago, she signed a seven-figure deal with the fashion company. However, Jackson has not let the contract change her. Instead, Jackson has allowed her style to influence the way in which she promotes the business. In a social media post from earlier this year, Jackson thanked CK for "embracing" her self-expression "with an open mind and open heart." She said it meant the world that she felt supported enough to add elements of her style while working as a spokesperson for the clothing brand.
Speaking of Paris Jackson's sense of style, the tattoos on her chest look new. Well, they were not there at least when she delivered her headline-making, off-the-cuff political rant while presenting the Best Pop Video at the 2017 MTV VMAs. Also, did you notice the Donnie Darko bunny tattoo on her arm? Paris Jackson loves collecting tats, and it turns out, so does her elder brother, Prince Jackson. In fact, the two siblings got matching yin and yang tattoos several months ago.
Paris Jackson did not enable comments for this most recent topless Instagram photo, but the picture did rack up about 125,000 likes in a single day. Jackson has an active presence on the social media platform and often shares glimpses into her unconventional life with bohemian posts such as memes about being an extraterrestrial that has projected itself into a human body in the third dimension.
Her account is rife with bonfires, flowers, peace signs, and tie-dyed tapestries. Paris Jackson urges her followers to "give peace a chance," and she shares pictures of Buddhas, crosses, Egyptian deities, poems, and tarot cards. And of course, there are the random topless photos she tosses in for good measure. For example, here is the jackpot: a picture of Paris Jackson topless and drinking hot tea from a rusty aluminum can somewhere in the desert:
Sure, some of Paris Jackson's posts are a bit over-the-top for some people's tastes. But the fact of the matter is that she is confident being unique, and that's something her fans can get behind.
Your Daily Blend of Entertainment News
Your Daily Blend of Entertainment News
Thank you for signing up to CinemaBlend. You will receive a verification email shortly.
There was a problem. Please refresh the page and try again.