Paris Jackson's Uncle Jermaine Is A Little Concerned About Her Getting Famous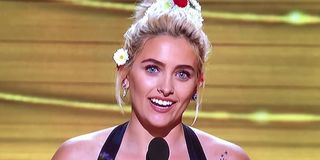 Paris Jackson is Hollywood's newest It Girl. The 19-year-old daughter of the late Michael Jackson has the world at her fingertips thanks to her famous family, but recently, one of her relatives voiced concerns about her decision to step into the limelight. In an interview, Jermaine Jackson revealed he worries about Paris Jackson's wellbeing because he has seen the fame monster's hold on his family firsthand. The former Jackson 5 member opened up, saying,
It was kind of Jermaine Jackson to express his support of his niece in all her endeavors. The concern he expressed to The Sun Online sounds loving and reasonable. After all, it was not long ago Paris Jackson was making headlines for a suicide attempt, so there is nothing wrong with him expressing nervousness about her newfound fame.
But, these days, Paris Jackson is busy building a name for herself as an actress, model, and trendsetter. Earlier this year, Paris Jackson had a small role on an episode of Lee Daniels' television show, Star. Then she landed a role alongside Charlize Theron, Amanda Seyfried, David Oyelowo, and Thandie Newton in a feature film Australian director Nash Edgerton is directing. Plus, Paris Jackson signed on to become the new face of Calvin Klein. So, it sounds like she is about to blow up. No wonder Jermaine Jackson has some concerns.
Besides, Jermaine Jackson probably has complicated feelings about fame. Most of his family has experienced the extreme highs of celebrity only to come under scrutiny at some time or another. He watched MJ reach the heights of Hollyweird only to crash and burn by way of the press. He witnessed Janet Jackson ride a similar roller coaster over the years. These days, tabloids even have it out for his mom, Katherine Jackson, who is not actively seeking a career in Hollywood like Paris Jackson is. So, Jermaine Jackson knows the drill.
Still, Paris Jackson has indicated she, too, has seen how celebrity status can hurt people. However, she reflected about it and decided to see what she could do in Hollywood when she realized she was born with a platform and could make a positive impact in the lives of other people. It sounds like Paris Jackson is chasing fame for the right reasons and has an awareness of how to navigate the waters. Hopefully, she can hold fast to her goals.
Your Daily Blend of Entertainment News