Justin Bieber Has A Huge New Torso Tattoo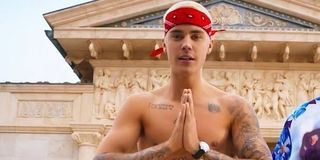 It is no secret Justin Bieber loves getting inked. Now the 23-year-old pop singer has gone the extra mile and had his entire front torso tattooed. Later, Bieber uploaded a mirror selfie to show off the design. Comments immediately poured in from fans, who had divided opinions. Some people liked the creativity and thought the artwork looked like a mural. Others indicated the job seemed heavyhanded and covered too much of Bieber's body. Of course, people will have plenty of time to debate its merits because it is a tattoo, after all. Check it out:
Wow, there is barely a blank spot left on Justin Bieber's torso. From the looks of it, the new tattoo blends several old designs into one big piece of art. Plus, some of it covers up a tattoo Bieber recently got that said "SON OF GOD." Now a new picture of temple arches and an eagle with its wings spread blocks out those three words, though you can still see them if you look carefully. Take a look:
Luckily, Justin Bieber had plenty of time to sit for the tattoo. After all, he is enjoying his time off work after calling it a day with his world tour earlier this year. The break from work was going rocky for a while, like when he accidentally drove over a paparazzo a while back. But now he is getting more tattoos and basking by the pool, as you saw in the above Instagram video.
The eagle was a twist. Justin Bieber could have opted for a "lions and tigers and bears" theme if only he had planned differently. Perhaps the eagle is a meaningful symbol for the "Sorry" singer. Regardless, its broad wings fit well with arches that cover the tattoo he wanted to hide. Hiding tattoos seems to be Justin Bieber's current go-to option instead of having laser tattoo removal. Previously, he shaded over a wrist tattoo he got for Selena Gomez.
Reportedly, Justin Bieber's first tattoo happened when he was 16. He got a tattoo of a little bird on his hip. Since then, Bieber has had more than 60 other tattoos. Tattoo artist Keith "Bang Bang" McCurdy, a celebrity tattoo artist in New York City, was the artist behind the most recent epidermis masterpiece. Here is a video of Bang Bang at work on Bieber's body:
Tattoos come in all shapes and sizes, and some are better than others. Although this most recent work might be heavy-handed, it still looks a lot better than some of Justin Bieber's sketchier (no pun intended) tattoos. We'll have to see how many more tattoos he decides to get more down the road.
Your Daily Blend of Entertainment News