Check Out John Stamos Celebrating His Birthday In The Buff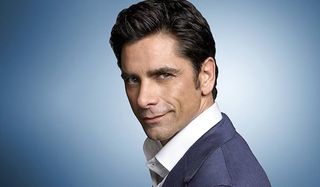 John Stamos celebrated Birthday #54 over the weekend. To ring in the special day, the Full House actor bared some skin for social media. Apparently, Stamos felt brave on his birthday, so he opted for a "cheeky" photo in an exotic outdoor shower hidden among the leaves of tropical plants. Check out the photo:
Have mercy! (Sorry, but everyone else on social was saying it.) John Stamos is still in tip-top shape and looking better than ever at 54. It is a good thing the leaves are there to cover up his derriere, or as Uncle Jesse might say, "toosh." (That was an Uncle Jesse-ism, right?)
On Saturday, John Stamos' actual birthday, he and his Full House co-stars Lori Laughlin and Dave Coulier watched the classic film Some Like It Hot at a Cinespia screening in Hollywood Forever Cemetery. Hopefully Stamos put his phone on silent because many of his 2.1 million followers on Instagram were blowing up the comments section on the naked photo, which he posted earlier in the day.
The caption about getting "clean" most likely had a double meaning, referring to the shower, but also the fact that Stamos got clean from drugs in 2015 after a DUI arrest and a stint in rehab. In fact, he added some insight to this topic in the caption of a throwback photo he posted to Instagram. The existential caption read:
What a sweet sentiment. It is awesome that John Stamos is still learning more about himself. They say knowledge is power, so perhaps self-knowledge makes you powerful.
Of course, it is by no means the first time John Stamos has stripped down on social. For example, a few years ago, he showed off his ripped abs at age 51 with this sexy photo:
He also added photos of himself with fellow Scream Queens actor Glen Powell naked for their scenes on the show. For example, he has this one in the shower:
And this one with cigars on the street:
Also, John Stamos previously posted this Polaroid photo of himself post-workout, and he even added some self-deprecating humor with the hashtag #weirdbellybutton:
It looks like John Stamos is happier and healthier than ever. 54 will no doubt be a great year for him. Hopefully he had an excellent birthday and soaked up all of the love coming his way.
Your Daily Blend of Entertainment News
Your Daily Blend of Entertainment News
Thank you for signing up to CinemaBlend. You will receive a verification email shortly.
There was a problem. Please refresh the page and try again.