Watch Lea Michele Laugh Over 'Binge Eating' Gossip About Herself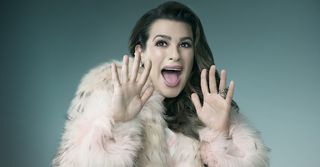 Don't believe everything you read --- especially in the tabloids. Lea Michele couldn't help but laugh as she picked up OK! Magazine to find a story accusing her of unhealthy binge eating. She and her Scream Queens costars John Stamos and Emma Roberts giggled as Michele performed a mock dramatic reading of the piece, which was entitled "Lea's Break-Up Binges." Watch it below...
John Stamos only chimed in after the mention of weight gain to say "Not true!," and Emma Roberts capped off the reading with a tongue-in-check "What are we going to eat for lunch?" Michele quickly responds by saying "Pasta and baked goods" while putting her hand in front of her mouth in feigned terror at the notion.
It's incredibly clear just from watching the clip that Lea Michele is at a healthy weight and a good mental space, not succumbing to the "binges" that OK! is alleging. The break up that the article is referring to is Michele's split from iZombie actor Robert Buckley in early July. The two met on the set of their upcoming sci-fi TV series Dimension 404, and only dated for about two months before deciding not to mix work with romance.
It looks like Lea Michele is having just as much fun on the set of her currently airing horror spoof series Scream Queens. Michele is reprising her role of the unhinged homicidal mastermind Hester Ulrich for the second season of the show, alongside other actors from the anthology series' first season that are reprising their roles, such as Jamie Lee Curtis, Keke Palmer, Emma Roberts, Abigail Breslin, Billie Lourd, and Glen Powell. While the 2015 debut season was set in a sorority house, the new season is set in a hospital, and adds a slew of new actors to the mix, including John Stamos, Taylor Lautner, and Kirstie Alley. The currently airing season has also seen guest spots from Cecily Strong, Colton Haynes, Jerry O'Connell, and Laura Bell Bundy.
Lea Michele has worked with Scream Queens creator Ryan Murphy before on the long-running musical comedy Glee. Michele played the aspiring singer Rachel Berry, who was incredibly persistent in her ambitions, often to a fault.
Scream Queens airs Tuesdays at 9 p.m. ET on Fox.
Your Daily Blend of Entertainment News
Your Daily Blend of Entertainment News
Thank you for signing up to CinemaBlend. You will receive a verification email shortly.
There was a problem. Please refresh the page and try again.