Why Jennifer Lopez And Alex Rodriguez Get Along So Well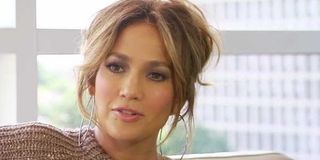 Jennifer Lopez and Alex Rodriguez blew the lid off the world of entertainment news this year when they revealed they were dating. The two celebrity powerhouses came together like Megazords of star power to create an awesome Hollywood power couple on par with the likes of Beyonce and Jay-Z. Okay, maybe that last bit is a stretch; Bey and Jay are in a realm all their own. Still, in a new interview, Lopez and Rodriguez bared it all and talked about all of the reasons why their new love works well. It turns out, they have myriad things in common. For example, Rodriguez said,
Actually, "20 other things" does not cut it. Jennifer Lopez and Alex Rodriguez share a ton of similarities from their humble beginnings to their professional setbacks to their triumphant comebacks and so on. The writer of the Vanity Fair interview even calls Jennifer Lopez and Alex Rodriguez a modern-day Marilyn Monroe and Joe Dimaggio ("if Monroe and DiMaggio had been happy, highly functional fortysomethings who had apparently done battle with their demons and emerged the victors").
Jennifer Lopez and Alex Rodriguez began dating last spring. People did not even call them a couple until they attended the 2017 Met Gala together, but the love is moving at a rapid pace. Back in May, Rodriguez revealed the relationship in an interview on The View and shared niceties about his new girlfriend. A few months later, the pair were already making enormous donations together to help hurricane-relief fundraising efforts. In fact, in the recent interview, it came to light that their houses have pictures of themselves with all of their kids "as one family." The speed with which the romance is blossoming shines a light on how well they get along.
But we should have expected the momentum. After all, as the article points out, Jennifer Lopez and Alex Rodriguez have a long list of commonalities. Maybe the connection was a "kindred spirits" response or "kismet" reaction that brought them together. Lopez revealed additional details and said,
Although Jennifer Lopez and Alex Rodriguez began dating this year, they met 12 years ago at Shea Stadium. Their first interaction was brief but meaningful, yet they did not begin dating until this year. Neither of them was single, and it would be years before life would work out in a way that they both were unattached at the same time.
Interestingly, Lopez and Rodriguez both said if they had been single back then and decided to go on a date, they would not have lasted as a couple because they had a lot of work to do in their private lives. That personal work is yet another thing they have in common, and it is, perhaps, the most inspiring, meaningful similarity. It suggests they came together in the right place at the right time.
Still, Jennifer Lopez and Alex Rodriguez might have forgotten one of the most important similarities: people call her J. Lo, and people call him A. Rod. Okay, maybe the fact that they both have phenomenal business prowess and investments in multimillion-dollar companies is a bigger deal than their nicknames. Still, their nicknames do make for fun headlines!
Your Daily Blend of Entertainment News
Your Daily Blend of Entertainment News
Thank you for signing up to CinemaBlend. You will receive a verification email shortly.
There was a problem. Please refresh the page and try again.