Jennifer Lopez Aims To Inspire With A Stunning And Tantalizing New Photo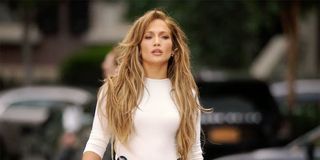 Jennifer Lopez is hoping to use her sexy selfies for a greater good. The singer and dancer showed off her impressive body in a bedroom mirror selfie on Thursday afternoon, and captioned the photo with empowering inspirational sayings about self-love and acceptance. Check out the sexy snapshot below.
The 47-year-old singer flaunted her famously curvy, toned body in a tight black bodysuit in a selfie for her Instagram. The bedroom selfie has a few notes of Kim Kardashian in it, as J-Lo sports a dramatic red lip, a ponytail, and of course, a super body-positive approach to showing some skin and feeling your look.
But Jennifer Lopez didn't just share the steamy pic to show off her amazing body... or, she probably did (and why shouldn't she!?), but that's not the only reason. Lopez captioned the selfie with some inspirational hashtags about self-love and empowerment.
Jennifer Lopez has long been an advocate and role model for body positivity in the world of celebrity. Back when Lopez was a dancer at the beginning of her career, she said that agents and casting directors would ask her to lose weight to fit into the stick-thin stereotypical ideal of beauty that was popular in the early '90s. Instead, Lopez persevered and wound up becoming a famous singer on her own terms without losing her curvaceous figure. Since breaking big, Lopez has been widely seen as one of the women to expand the American ideals of beauty to include a curvier body, helping pave the way for women like Kim Kardashian and Nicki Minaj to be viewed as beautiful by the entertainment industry.
The tantalizing selfie must be torture for Casper Smart, the former backup dancer that Jennifer Lopez recently split up from. Lopez and Smart less than two months ago after dating for five years. Reportedly, the split was not contentious and the two remain friends.
The sexy photo certainly isn't the first time that Jennifer Lopez has proudly shown of her body. It's not even the first time this week, for that matter. J-Lo gave her fans a peek at her booty two days back, after a special performance dedicated to Democratic presidential candidate Hillary Clinton. Lopez shared a cheeky photo of her the red skirt of her patriotic get-up blowing up in the air during her performance at the Miami concert on Saturday, hashtagging the word "peekaboo" in the caption.
Your Daily Blend of Entertainment News