Tom Hanks Helped A Couple Get Engaged, Here's What Happened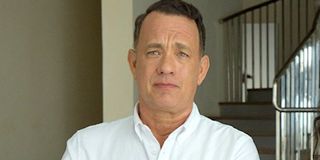 Academy Award-winning actor Tom Hanks' self-proclaimed superfan, Nikki Young, was recently in for a huge surprise when the Forrest Gump actor helped her boyfriend, Ryan McFarling, propose to her at a book festival in Austin, Texas. Hanks was at the book festival to promote his book of short stories, Uncommon Type: Some Stories. Hanks was fielding questions from the crowd when he all of a sudden stopped taking questions and announced he, himself, had a question of his own to ask. Hanks said he had received a question from an audience member named Ryan McFarling who wanted to ask another audience member named Nikki Young something important. Hanks pulled out a piece of paper and then read the burning question:
After Tom Hanks asked the proposal question on behalf of Ryan McFarling, the pair left the audience and joined Hanks up on the stage, where McFarling knelt down on one knee and put an engagement ring on his beloved's hand. THR says Hanks then congratulated the newly engaged couple, offered his best wishes, and hugged his superfan, who was beaming and had tears of joy the whole time.
Nikki Young later told reporters from KVUE about the proposal. Amusingly, Young said that she had felt a little bit frustrated when Tom Hanks first said he was going to take a question from the audience. Young explained she felt peeved that she had not been able to ask her movie star idol anything. Once she figured out what was happening, everything changed. Young proudly showed the reporters the piece of paper Hanks had been quietly concealing during the first part of the book festival chat. She also said that Ryan McFarling was super nervous for the bulk of the day. Young had noticed and questioned him about it. She hilariously said,
Nikki Young also said she had no clue how her boyfriend--now fiance--managed to pull off the proposal. She said it was epic and magical. In fact, it left her breathless, and for a moment she felt like she was going to faint.
Of course, Tom Hanks was the right choice to help with this engagement because of how much Nikki Young loves him. Come to think of it, Tom Hanks probably would be the right choice to help almost anyone get engaged just because he is Tom Hanks. However, it is worth pointing out that Tom Hanks is, perhaps, an especially great person to put the seal of approval on the engagement because he, himself, has been married to the love of his life, Rita Wilson, for 29 years. Here's hoping Hanks' blessing helps Ryan McFarling and Nikki Young to find the same, long-lasting happiness.
Your Daily Blend of Entertainment News
Thank you for signing up to CinemaBlend. You will receive a verification email shortly.
There was a problem. Please refresh the page and try again.