Tom Cruise's Friend Says He Doesn't Even Want To Look At Pictures Of His Daughter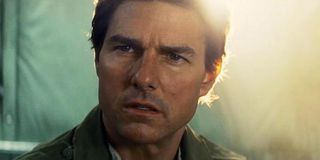 Reportedly, Tom Cruise no longer wants anything to do with his 11-year-old daughter, Suri Cruise, and he even asked the manager of his official Facebook fan page not to allow pictures of her posted there because he does not want to see her. These allegations sound wild, but might not be too far-fetched. In fact, they appear to underscore previous claims saying Tom Cruise has not had contact with his youngest daughter in ages. Here is how this recent news breaks down. The page's manager, someone named Maryann Carter, allegedly posted,
The statement, which New Idea captured in screenshots, sounds like something the fan page's manager could have requested without Tom Cruise's knowledge. However, the call apparently came from the Mission Impossible actor himself (or so the fan page's manager made it seem). When a commenter asked if all pictures or just new ones were off limits, Maryann Carter wrote,
Say what? Not cool! It would be an entirely different matter if Tom Cruise asked people not to post pictures of his daughter out of respect for her privacy. In fact, that request could have garnered an entirely different article about what a great dad he was, even though he reportedly rarely sees Suri Cruise. But the "no longer part of his life" bit is vile and adds support to claims Tom Cruise has had zero contact with his daughter in years. But remember, we're basing this information on something a Facebook page's manager claimed. Who really knows?
Back in September a source for In Touch asserted it had been four years since Suri Cruise last saw her dad, and the severing of ties supposedly happened because Scientology apparently prevented Tom Cruise from having contact with his daughter. Allegedly, the church labeled Katie Holmes "a suppressive person," someone the actor must avoid to get to be successful in the next phase of his life, which includes work projects, connections with a small circle, and more Scientology.
So, Tom Cruise perhaps has dropped the ball on parenthood. On the other hand, Katie Holmes seems to have stepped up, and there is a significant chance she wants Tom Cruise and Scientology to go away. After all, Holmes seems happier than ever. She and Suri Cruise appear to love their life in New York City, with Holmes taking acting projects while Suri Cruise is in sixth grade. In fact, the 38-year-old actress from Toledo, Ohio, has been enjoying a life rejuvenation of sorts. She reportedly is now free to date Jamie Foxx, her Hollywood beau of a few years, in public. And this year, Holmes has posted tons of social media photos of herself and her daughter with family and friends. Check out one of the happy mother-daughter duo here:
Come to think of it, the fact Katie Holmes is dating Jamie Foxx could contribute to the reason Tom Cruise went from not contacting Suri Cruise to not even wanting her picture on his Facebook fan page. After all, Jamie Foxx previously worked with Tom Cruise, so it's possible Tom Cruise dislikes the idea of his ex-wife dating his former colleague. Whatever the real reason might be, here's hoping the situation takes a positive turn soon (unless, of course, the status quo is for the best).
Your Daily Blend of Entertainment News