Smallville's Allison Mack Has Allegedly Been Recruiting Women For A Cult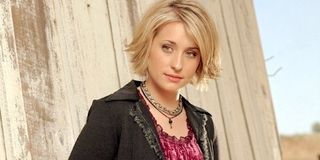 Think American Horror Story: Cult is freaky-deaky? Try this alleged cult story on for size. Rumor has it former Smallville actress Allison Mack is a recruiter for a cult that supposedly brainwashes women into becoming a member. Reports say Mack has initiated 25 women into the group and used the cult's strategies to control them. There are even women who allege the cult branded them as part of a commitment ritual. There's a lot of speculation surrounding the alleged cult, and this is what has come out so far.
Last month, The New York Times broke a story about the cult, Nxivm DOS. Then Frank Parlato, a former Nxivm spokesperson told The Sun there was a famous actress involved, and he indicated it was Allison Mack. Previously, Parlato used his website, The Frank Report, to expose the apparent cult. He even uploaded several videos of Mack having emotional sit-down interviews with the supposed leader of the cult.
Nxivm is pronounced Nex-ee-um, and DOS stands for dominus obsequious sororium, Latin for "master over slave women." Keith Raniere, the founder of the Nxivm group, allegedly entices thousands of people into the cult with the promise of increased satisfaction through the removal of mental and emotional blocks. Nxivm apparently offered legitimate business workshops in the past, and thousands of people attended over the years, but some of those people allegedly found themselves in the thick of the cult's darkest operations.
For example, the dark inner circle of the group supposedly encourages women not to eat for 12 hours between meals, take cold showers to make them impervious to pain, and submit damning material like pornographic pictures of themselves that the cult might use as blackmail if the person ever defects and speaks out against the group. Similarly, allegations are coming to light about Keith Raniere urging women to go on "starvation diets" and have sex with him.
At least one former member reached out to the New York State Department of Health to file a complaint against an osteopath associated with the group who branded her with KR, Keith Raniere's initials. Supposedly, the cult branded many other women this way after tricking them into becoming a slave. However, state regulators decided not to act on the information partly because they deemed the act consensual.
Furthermore, two former members filed an official complaint against another physician associated with the group who put them in an "experiment" in which they were asked to describe their thoughts while watching explicit videos of women being murdered and dismembered. As in the case of the branding, state regulators decided not to act because the information did not meet their requirements for medical misconduct.
According to Frank Parlato, Keith Raniere and Allison Mack created the DOS faction of Nxivm to fight evil through female empowerment, but the faction took a dark turn by introducing punishment into its methodology. Parlato said the group even pledged to become strong enough to manipulate elections one day. (Um, that idea is the premise of AHS: Cult in a nutshell.) Mack has not confirmed her connection to (or even the existence of) the cult. However, she has posted on social media about her mentorship from Raniere.
This story is still gaining traction as more people come forward to reveal their personal experiences. It is important to note all the information about Allison Mack comes from hearsay. But if reports are accurate, it would not be the first time in history a famous Hollywood star wound up tied to a cult. This year alone, reports have surfaced with allegations about other celebrities like R. Kelly at the core of other sex cults, too. Regardless, here's hoping Mack and the women coming forward with information are safe.
Your Daily Blend of Entertainment News