Nicki Minaj Is Attempting To Break The Internet With Raunchy Magazine Cover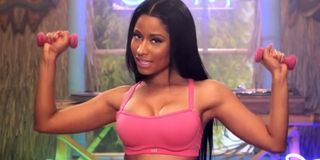 Yesterday, hip-hop star Nicki Minaj announced her plans to let her sexiness demolish the world's connected system of computer networks called the Internet. The 34-year-old rapper hopped on social media to share the suggestive cover art for a magazine featuring her being sexy AF not once, not twice, but three times. Although the magazine might land on store shelves without any warnings or brown paper bags covering it, you might want to consider this visual NSFW. Not just because it promises to bring your Internet to a halt, but also because it features Nicki Minaj getting erotic with clones of herself. Take a look (if you dare):
Woah! Although we still seem to have access to our email accounts and search engines today, we totally can see how Nicki Minaj thought she might singlehandedly--or with multiple hands, as it were--bring down the World Wide Web. Regardless, she and Paper did an excellent job of creating an image we never will be able to unsee.
Nick Minaj shared the image with her 84.1 million fans and followers on Instagram, many of whom left comments that seemed mixed. Of course, she received a lot of "ooh la la"-style support from stans, but at the same time, plenty of people hopped on to criticize the risqué image and question her intent. Apparently, the critics forgot that Minaj is the same woman who got nominated for a Grammy, a Billboard Award, an MTV Video Music Award, and a BET Music Award for "Anaconda," a song about full-bottomed ladies.
In the article that corresponds to the racy cover art, Nicki Minaj apparently hints at a possible collaborative album between her and Beyonce, so says Metro. Now that would be an effort that inevitably would break the Internet in much the same way Minaj intends to do with this raunchy photo. Of course, Queen Bey's resume includes experience in the art of Internet-breaking, as she managed to bring the Web to a slamming halt when she released her eponymous album online in the middle of the night back in 2013. Then she did the same thing in 2016 with Lemonade, and she did it again with pregnancy pictures and baby pictures. If Minaj wants to press control-alt-delete on the Internet, turning to Beyonce would be the right move.
Back in 2014, Paper introduced its Break the Internet feature with an iconic photo of Kim Kardashian. The image saw the Keeping Up with the Kardashians personality popping the cork of a champagne bottle and spraying the contents over her head to land on her famous tush. Is this new cover photo of Nicki Minaj as iconic as Kardashian's? It may very well be. After all, the play on Nicki Minaj's name with the "Minaj a Trois" title is cheeky.
Nicki Minaj also posted some of the other images from inside the magazine, and it looks like she carried the Photoshopped self-love session throughout the piece. There is a lot of hair, a lot of leather, and a lot of Minaj. But, hey, people do say that if you want something done right, you have to do it yourself, so perhaps kudos to Minaj for taking the reins.
Your Daily Blend of Entertainment News
Your Daily Blend of Entertainment News
Thank you for signing up to CinemaBlend. You will receive a verification email shortly.
There was a problem. Please refresh the page and try again.