Willow Smith Thinks Growing Up Famous Is Terrible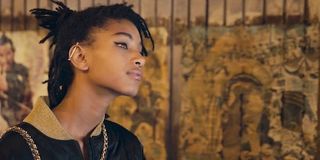 Willow Smith is not yet an adult, but she already has lived a complicated life that might challenge many grown ups, and she recently shared some wisdom she has learned through the years. As the daughter of movie stars Will Smith and Jada Pinkett Smith, the 17-year-old starlet was born with a platform for success. Unfortunately, all that glitters is not gold when it comes to growing up in Hollywood with a famous mom and dad. In a recent interview, Willow Smith expounded on the subject, saying,
Willow Smith knows a thing or two about growing up famous. She, like her older brother Jaden Smith, opted to dabble in the music industry for a while and even found early success at the ripe old age of 10 when her debut single, "Whip My Hair," made its way up the charts despite its polarizing critical reception. Willow Smith told Girlgaze famous kids like her often end up on the road toward crippling depression, while society seems to enjoy nothing more than mocking those kids--despite the fact mocking often adds to poor mental health.
From the sounds of it, Willow Smith faced some of those problems herself. She explained there seemed to be two options for her. Smith could have taken herself "completely out of the eye of society" and gone into a self-made seclusion. On the other hand, she saw a chance to "try to go into it completely and help from the inside" and do something special with her built-in platform. Smith chose the latter before she was even a teenager, but the extra attention has been difficult to grapple with over the years.
Evidently, Willow Smith has felt this way for a long time. In fact, her famous dad, Will Smith, recently told Jay-Z's Footnotes of Adnis about how shocked he was when Willow Smith shaved her head because she wanted to quit her Whip My Hair tour back in 2012. (Like, just revisit that for a moment. She was in the middle of a tour called the Whip My Hair tour and she buzzed off her hair!) It sounds like an intense thing for a father to process, but he encouraged her to finish up what she started, and promised never to push her to take on such a big project again.
It is worth noting that Willow Smith received some backlash across social media for the comments she made in this magazine interview. Critics said she ought to be more grateful for the abundance of gifts and privileges she has. However, Smith revealing the "terrible" nature of fame at a young age might not necessarily negate the value she may or may not place on the advantages her celebrity status, too. All in all, Smith's words serve as an eye-opening slice of life from a young person with a unique perspective.
Your Daily Blend of Entertainment News
Your Daily Blend of Entertainment News
Thank you for signing up to CinemaBlend. You will receive a verification email shortly.
There was a problem. Please refresh the page and try again.