How To Watch The Royal Wedding Live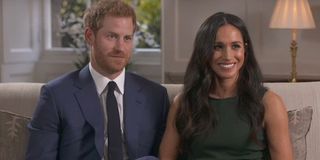 Prince Harry and Meghan Markle recently delighted the world with the news they got engaged and plan to marry in May 2018. This week, Kensington Palace confirmed the wedding would happen at St. George's Chapel at Windsor Castle. Now we have details about the celebration and when it might occur. Evidently, the wedding will take place around the weekend of May 26, just in time for the Memorial Day holiday weekend in the United States. We'll have to wait until next week to find out the precise date.
A Kensington Palace source for TMZ said Prince Harry and Meghan Markle might allow cameras to broadcast the wedding on major television networks, cable TV, and digital platforms. (Yay!) If the union takes place over the holiday weekend in the US, you can bet the viewership will be enormous in America, but US viewers might need to set their DVRs because of the time difference.
Apparently, some people even see some friendly competition between Prince William's 2011 wedding to Kate Middleton and Prince Harry's upcoming marriage to Meghan Markle. Reports say Prince Harry and Middleton's wedding drew an audience of about 23 million viewers in the US and 27 million viewers in the UK. It is possible Prince Harry and Markle's wedding could attract more viewers, especially because Markle is a famous American actress with a hit TV show, Suits. Moreover, a lot of people adore Prince Harry for always staying true to himself with uncommon life decisions for royalty. Plus, reporters essentially have been touting the relationship as a breath of fresh air for the royal family. So, perhaps it might be fun to place bets on which wedding will draw a bigger audience.
But of course, people will surely be focused on the dress, the reception, and so on. Many viewers, especially in the thirtysomething crowd and younger, have said Prince Harry's engagement to Meghan Markle is livening up the stories from the royal family. So it sounds like a lot of people plan to watch with a renewed sense of excitement. For example, the co-hosts of The View recently talked about how this story is one of the most captivating things to happen since Princess Diana. After all, Markle is a 36-year-old American actress. She is a divorcee who is outspoken, even on tough topics. Markle also values hard work, and even has a resume of impressive jobs, including a gig at the US Embassy in Argentina.
Furthermore, Meghan Markle comes across as both humble and smart. A while back, Markle told Elle UK about how she tries hard to balance being a successful actress and a philanthropist, doing jobs like working in advocacy for UN Women in a refugee camp in Rwanda. Prince Harry and Markle already have embarked on their first charitable works as a couple, so it is easy to draw comparisons between Markle and Princess Diana. Thus, we can guess the draw for viewers of the fascinating wedding will be high across the board just based on her appeal alone.
Undoubtedly, the wedding will be grand and luxurious--a nuptials not to be missed. Of course, we'll be here to fill you in on all of the details leading up to the fairy-tale event.
Your Daily Blend of Entertainment News
Your Daily Blend of Entertainment News
Thank you for signing up to CinemaBlend. You will receive a verification email shortly.
There was a problem. Please refresh the page and try again.