Why John Stamos Will Be A Great Father, According To Fuller House's Jodie Sweetin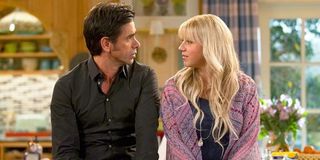 John Stamos recently announced he and his fiance, Caitlin McHugh, are expecting their first child. On Full House, Stamos played a dad, as his character, Jesse Katsopolis, had twin sons with Lori Laughlin's Rebecca Donaldson (i.e., Aunt Becky). Plus, Stamos got plenty of real-life practice with children, because Full House always had a bunch of little tikes running around. Now Stamos' Full House colleague, Jodie Sweetin, says the 54-year-old actor will make a great dad. In a recent interview, Sweetin told reporters she know Stamos will be excellent because he already is terrific with children. She explained,
Jodie Sweetin plays Stephanie Tanner, the niece of John Stamos' Jesse Katsopolis on both Full House and Fuller House. Sweetin and her Full House co-stars Candace Cameron Bure and the Olsen twins grew up with Stamos as an onscreen uncle, and an offscreen father figure. Thus, Sweetin is a good person to ask about the dad Stamos might be. Sweetin's description of John Stamos' desire to be a dad corresponds with previous excited words Stamos himself shared on social media. For example, he recently posted a throwback Instagram picture of himself with his late father. In the caption, Stamos said he hoped to live up to the excellent example of fatherhood his dad set for him.
Jodie Sweetin also told E! she had messaged John Stamos via text when she found out the baby news. Apparently, Sweetin told Stamos she plans to spoil his child. Sweetin also said she and the other people working on Fuller House love Caitlin McHugh. Plus, Sweetin noted John Stamos had long wanted to be a dad, but it was a matter of finding the right person with whom to start a family. That bit could seem like a dig at Stamos' exes, particularly his actress ex-wife, Rebecca Romijn, whom he divorced in 2005. But there is no evidence Romijn and Stamos split over the desire to have kids, so let's take the statement at face value.
Next year should prove busy for John Stamos. He and Caitlin McHugh are expecting a little bundle of joy, and they also are engaged, so it is possible they might visit the wedding chapel soon. Also, Stamos also has a lot going on in his career. He is a Fuller House executive producer, and as an actor, he will be on the upcoming dramatic psychological thriller series You on Lifetime.
With a newborn baby, Stamos will have his hands full. But from the sounds of it, Stamos has a lot of support in his corner. Here's hoping we eventually get to see pictures of Stamos with his baby and the cast of Fuller House.
Your Daily Blend of Entertainment News
Your Daily Blend of Entertainment News
Thank you for signing up to CinemaBlend. You will receive a verification email shortly.
There was a problem. Please refresh the page and try again.