Fuller House's Jodie Sweetin Has Been Sued For Child Support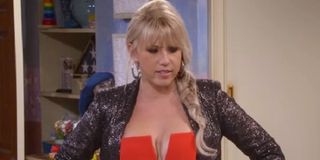 Jodie Sweetin, whom many people know as Stephanie Tanner on Full House, caught a break with the success of the show's Netflix reboot, Fuller House. Now, because of the 35-year-old mother of two's newfound prosperity, a California judge has decided to grant her ex-husband, Morty Coyle, the child support he has requested since he and Sweetin divorced in 2016. Evidently, Sweetin needs to keep her checkbook handy to make monthly payments of nearly $3,000.
Before Fuller House, Jodie Sweetin was not making enough to give Morty Coyle child support for their seven-year-old daughter, Beatrix. TMZ says Sweetin was earning $4,000 per month when she and Coyle parted ways, so a judge decided not to make Sweetin pay child support at that moment. However, Coyle recently returned to court to reveal to the judge that his ex-wife was collecting at least $600,000 a year thanks to Fuller House. Then on November 8, Sweetin filed an income and expense declaration to explain.
The report, which Jodie Sweetin submitted to the Superior Court of Los Angeles, painted a different picture from Morty Coyle's description. People said Sweetin claimed an adjusted gross income of $437,349 for 2016. She allegedly put her monthly income at $43,614, and described that amount as $12,000 in wages and $31,614 from self-employment. Sweetin allegedly cited expenses of $15,262, which apparently left her with $28,352 a month. Reportedly, Sweetin also noted a business account with $139,456.25, and other accounts worth $9,449. Regardless, the court still sided with Sweetin's ex-husband. It is possible the court noticed how Sweetin's net worth grew in one fiscal year and had the potential to continue doing so.
It might be disappointing for Jodie Sweetin to pay additional money soon after experiencing a professional uptick, but the child support could be helpful for Morty Coyle, whom Daily Mail suggests makes money from DJ jobs at a deli and a lounge. Hopefully, Coyle will use the child support money in ways that serve young Beatrix well.
Jodie Sweetin has not had great luck in the love department. The actress was married to Shaun Holguin from 2002 to 2006. Then she married Cody Herpin in 2007. They share a nine-year-old daughter, Zoie, but Sweetin and Herpin divorced in 2010. Sweetin then married Morty Coyle in 2012 and divorced him in 2015. Finally, she got engaged to Justin Hodak, whom she later split up with and filed a restraining order against this year.
That last incident sounded troubling. Jodie Sweetin apparently had to call the police on her ex-fiancé, and when the authorities arrived, he had a 9 mm semiautomatic weapon. As a convicted felon, he was not supposed to be in possession of the weapon. Later, he faced additional legal trouble for possession of a deadly weapon and falsifying evidence by threatening a witness with force or implied force.
Aside from this child support update, Jodie Sweetin's personal life has not made many headlines since her trouble with her ex-fiancé. Here's hoping the trend continues.
Your Daily Blend of Entertainment News
Your Daily Blend of Entertainment News
Thank you for signing up to CinemaBlend. You will receive a verification email shortly.
There was a problem. Please refresh the page and try again.