Tom Cruise Is Intensely Private, But Here's What We Know About His Personal Life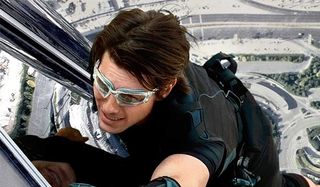 Tom Cruise is truly larger than life (though a little below average in stature) even by Hollywood standards. Any movie he stars in is virtually guaranteed to be a box office hit if not smash. In fact, taking in all box office numbers, foreign and domestic, you have to go back to the 1980s to find a movie that truly bombed.
Incredibly, Tom Cruise has made 18 films that have earned north of $100 million. The numbers are staggering, but what about the man behind the numbers? Let's take a look, shall we?
How Tall Is Tom Cruise?
Tom Cruise is often called out for being short, and while he's not tall, he's also not the shortest guy in Hollywood either. At 5'7" in height, he's taller than a lot of famous actors, like Daniel Radcliffe (5'5"), Michael J. Fox (5'4"), Scott Caan (5'5"), and Richard Dreyfuss (5'5").
How Old Is Tom Cruise?
Tom Cruise was not born on the 4th of July, but he was born on the 3rd of July in Syracuse, NY in 1962, making him 56-years-old at the time of this writing. He's pretty fit for someone pushing sixty, too, and regularly still has shirtless scenes in movies.
Who Is Tom Cruise's Wife?
Tom Cruise has been married three times. His first marriage was to Mimi Rogers, who introduced him to the Church of Scientology. They were married from 1987 to 1990 when he left her after meeting the woman that would become his second wife, Nicole Kidman.
Tom Cruise and Nicole Kidman got married in 1990 after meeting on the set of Day Of Thunder. They stayed married through the '90s, but eventually divorced in 2001. Kidman is now married to fellow Aussie Keith Urban.
After Tom and Nicole divorced, he began dating his Vanilla Sky co-star, Penelope Cruz (Cruise and Cruz), before breaking up with her in 2004, and shortly after, he began dating his soon-to-be third wife, Katie Holmes.
Sixteen years his junior, Katie Holmes and Tom Cruise stayed married for six years before Holmes filed for divorce in New York State. Their relationship was often splashed on the covers of the tabloids, sometimes because of Cruise's involvement in the Church of Scientology or sometimes because he was jumping up and down on couches with Oprah.
It's worth noting that before Tom Cruise married Mimi Rogers in the '80s, he was linked to a number of actress, all older than the young Hollywood heartthrob was at the time. He dated his Risky Business co-star Rebecca De Mornay briefly. He had a relationship with Bruce Springsteen's now-wife Patti Scialfa (before she and The Boss got together) and he also was linked to Cher for a short time, who was 16 years his elder.
Is Tom Cruise A Scientologist?
He is. Tom Cruise is almost as famous for being a Scientologist as he is for his movies. The two adopted children from his marriage to Nicole Kidman are as well.
He first joined the Church in the mid-eighties and has since become a strong advocate on behalf of it. The leader of the church, David Miscavige, was the best man at Cruise's wedding to Katie Holmes and Cruise has spoken publicly often about his faith in Scientology. Tom Cruise is such an important part of the Church, Miscavige invented an award to give him, called the Freedom Medal Of Valor.
In 2008, a video of an interview with Tom Cruise that was intended to be for Church use was leaked to the internet. In the video -- which was edited to have the Mission: Impossible theme playing under his talking -- the actor makes a lot of wild statements that the Church claimed were taken out of context and they sued YouTube and others to have the video removed. YouTube eventually removed it, but it can be found on the internet still.
Before he started acting as a young man, Tom Cruise also briefly attended Seminary hoping to become a Catholic priest, but the acting bug caught and he left for Hollywood.
What Is Tom Cruise's Real Name?
When he was born, Tom Cruise was named Thomas Cruise Mapother IV. He was named after his father, who Cruise didn't not get along with growing up. When Cruise was in 6th grade, while living in Ottawa, Canada, his mother divorced his father and moved back to The States. Later, she remarried when Cruise was 16. Thomas Cruise Mapother III died when Tom Cruise was 22, just as Cruise really broke big in Hollywood.
A cousin on his father's side is actor William Mapother, who starred as Ethan on Lost and has appeared in three films with Cruise himself, Born On The Fourth Of July, Mission: Impossible 2, and Minority Report.
Does Tom Cruise Have Kids?
Yep. Tom Cruise has three kids. Two were adopted during his marriage to Nicole Kidman. Allegedly, Nicole Kidman was pregnant when he filed for divorce in 2000, but tragically she miscarried. She also reportedly had a miscarriage early in their marriage as well.
Six years later, in 2006, his then-girlfriend Katie Holmes famously gave birth to their daughter Suri. The tabloids and gossip sites went crazy and the world buzzed with the announcement. Vanity Fair published the first pictures of their baby and circulation reportedly jumped 60% for the issue. It was a BIG deal. More recently, the news hasn't been as good though, as it's been reported that Tom Cruise doesn't have much contact, if any, with Suri.
What Are Tom Cruise's Kids' Names?
His two adopted children with Nicole Kidman are, Isabella Jane Cruise, both in 1992 and Connor Anthony Cruise, born in 1995. The most famous of his children though, is the one he had with Katie Holmes, whose name is Suri.
Why Did Tom Cruise Get Divorced?
As noted prior, his first marriage ended in divorce to Mimi Rogers because he met and started dating Nicole Kidman.
Neither Nicole Kidman nor Tom Cruise have ever spoken publicly very much about their divorce in 2001. All that is really known is that it was Cruise that filed for divorce, using the nebulous "irreconcilable differences" reason in California.
Like his divorce from Kidman, Cruise has never talked much about his divorce from Katie Holmes, nor has she. Holmes filed for divorce in New York State, which has very strict privacy laws when it comes to divorce and custody, so everything is speculation, really.
So, those are the public details of Tom Cruise's private life. As someone who has been on the front page of newspapers for almost 40 years, surprisingly little is really known about him. He's a huge name, but an intensely private person.
Of course, there have been times where the absolute opposite of all of that is true, like when his daughter Suri was born in 2006.
One thing is still for sure – he is still box office platinum. He is one of the rare few actors in Hollywood that basically guarantees a huge box office number. That probably won't change in anytime soon with the releases of the Top Gun sequel Maverick in 2020 and then two more Mission: Impossible movies in 2021 and 2022.
Your Daily Blend of Entertainment News
Hugh Scott doesn't believe aliens are hidden at Area 51 or that Elvis is alive, but he does believe birds are real and Meghan Markle isn't treated fairly by the tabloids. He's been writing about music, movies, and celebrities for most of his adult life after realizing stocking shelves in a paper warehouse in college wasn't all it was cracked up to be.