Ana De Armas Reflects On Blonde Backlash Ahead Of The Oscars
Ana de Armas shared her stance on the Blonde backlash.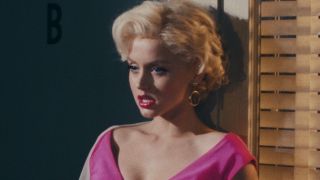 (Image credit: Netflix)
It's a strange concept to believe that a movie that got nominated for Worst Picture at the 43rd Golden Raspberry Awards is also listed in the 95th Academy Awards nominations for Best Actress. If you couldn't guess, I'm referring to Andrew Dominik's historical fiction drama Blonde. With the Oscars being ten days away, Blonde's star Ana de Armas reflected on the backlash her movie has received.
When Blonde first screened at the Venice Film Festival last September, the critics loved Ana de Armas's performance in giving everything she's got to bring Marilyn Monroe to life. The movie even received a 14-minute standing ovation. However, Blonde received middling reviews that felt the book-adapted film was "exploitative," "sexist," and "dehumanizing." In her interview with The Hollywood Reporter, de Armas spoke about how she felt about the harsh criticism:
Some films are made for entertainment purposes to make audiences feel good. Blonde falls into the category of a film that's not focused on feel-good vibes, but instead sends a message out to the audience of the hard times the Blonde Bombshell went through in Hollywood. Blonde's director Andrew Dominik's deeper meaning behind the NC-17 movie is for audiences to see the overwhelming transition of Norma Jean Baker being an unwanted foster child to becoming Marilyn Monroe, the most wanted woman in the Golden Age of Hollywood.
There was plenty in there "to offend everyone." Blonde was criticized for being anti-abortion, and it was even said one scene went too far showing Norma Jean being forced by John F. Kennedy to give him a blow job. This psychological drama clearly hit a nerve with people not used to seeing movies based on real people shown like this.
If critics and audiences had trouble watching the Netflix drama, maybe there's an underlying reason why they feel uneasy about it. Ana de Armas continued to speak about Blonde being more exploitative towards Hollywood than it is about Marilyn Monroe:
People knew watching Netflix's Blonde trailer what they were getting into with witnessing the tragic story of Norma Jean Baker. As tragedy unfolds, the audience helplessly watches. This harsh fact could be what's bothering them more than what Dominik was trying to present. The Australian director explained the Blonde backlash could also be coming from people wanting to see a strong woman instead of a woman who was a victim of being in the Hollywood spotlight. Maybe movies like this can teach audiences that fame is not everything it is cracked up to be as well as the importance of treating people well.
Blonde may have received backlash when it first came out on Netflix, but Ana de Armas will be celebrated for her performance at this year's Oscars. Be prepared to see this Cuban actress give Blonde recognition at the ceremony when the camera shines a light on her name being called out as a Best Actress nominee. If you want to prep yourself before the ceremony, you can watch Blonde with your Netflix subscription.
Your Daily Blend of Entertainment News
Just your average South Floridian cinephile who believes the pen is mightier than the sword.