Netflix Head Honcho Opens Up About Dave Chappelle Special Decision And What Happened When The Internal Email Leaked
Netflix discusses The Closer decision.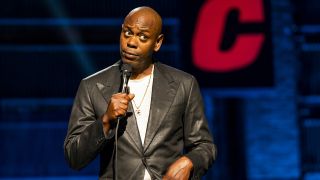 (Image credit: Netflix)
Recently, Dave Chappelle's latest comedy special The Closer drew complaints after several viewers professed his comments in support of J.K. Rowling to be transphobic. LGBTQ+ activists even petitioned Netflix to remove the special from the streaming platform. Now, in the wake of several leaked emails in which co-CEO Ted Sarandos shared why the streaming service would not be pulling The Closer, he is opening up about the decision, as well as his handling of the situation.
After LGBTQ+ fans and Netflix actors called for the company to pull Dave Chappelle's The Closer, co-CEO Ted Sarandos sent a series of internal emails revealing that the company was not planning to remove the program. He also defended the choice, with snippets from the leaked email allegedly noting The Closer did not "directly translate to real-world harm." However, those emails were leaked to the public, prompting further media backlash. In an exclusive interview with Deadline, Ted Sarandos took the time to explain his decisions. He has admitted to poor company communication, saying:
According to THR, Ted Sarandos' initial email memos convinced a faction of Netflix employees to organize a virtual walkout. The Netflix co-CEO recognized that his communication may have been inappropriate for the situation, but also says that the leaked messages led to an inaccurate reduction of his views. He said:
Ted Sarandos also revealed that he was surprised by the response to The Closer, but only due to Netflix's unofficial policy of free speech and creative expression. He also spoke out about Netflix's audience in general, touching on the company's ideas toward intellectual freedom and how those ideas have played out in Netflix content while still maintaining a "safe workspace" on the business side of things.
Dave Chappelle's The Closer initially hit Netflix on October 5 and Netflix has maintained its availability in the time since. However, as this story continues to play out CinemaBlend will keep you updated.
Actor, singer, and occasional dancer. Likes: fashion, books, old buildings. Dislikes: cilantro, the NJ Turnpike, sneaker wedges.
Your Daily Blend of Entertainment News
Thank you for signing up to CinemaBlend. You will receive a verification email shortly.
There was a problem. Please refresh the page and try again.