Paris Hilton Tried To Sneak A Teenaged Khloé Kardashian Into A Club And Just Admitted It Actually Spurred Her To Become Famous
This experience with the Kardashian sister helped motivate Paris Hilton.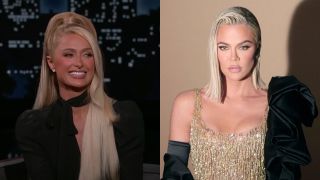 (Image credit: ABC and Hulu)
If you thought you'd heard all of Paris Hilton's wildest stories, you haven't because in her new book Paris: the Memoir the celeb revealed that she once tried to sneak a young Khloé Kardashian into a club. Not only did she attempt to get the future reality star into a bar while she was underage in a goofy way, Hilton also admitted that this event helped motivate her to become famous.
In Hilton's new book, she reflects on her past and tells fun stories about her party days, like the time she tried to sneak a Kardashian into a club when she was a teen. It seemed like a real stealth mission they put together, disguises and all, as the TV star wrote:
The excerpt published in The Times (opens in new tab) (via Insider) also jokes about the disguises the girls wore, which included Hilton putting her cousin "on top of somebody's shoulders with a big trench coat." Despite their best efforts, the young women proved to not be masters of disguise, and they were denied entry.
However, despite their failed attempt, the reality star explained that this instance with Kardashian taught her an important lesson:
I guess that makes sense, if you know someone who knows someone, or you are said someone, you'll likely have a higher chance of getting beyond the velvet rope. Well, her getting denied didn't last long, because she wrote that she was 15 then, but by the time she was 16, she was famous enough to get into clubs without questions.
This story just further proves how close Hilton is to the Kardashian crew, and how long she's been friends with the family. While this silly story is about Khloé, she's not the first family member I'd associate with Paris Hilton, because she's famously linked to Kim Kardashian.
While the two aren't the BFFs they once were, they're still close. We saw the pair together recently when Kim posted a birthday message for Paris Hilton, and the two were also both at Kris Jenner's "Iconic" Christmas party last December where Khloé famously rocked a $5,000 ornament bag. So, it's clear that the socialites are still pals, and if the two showed up at a club today, I'm positive they'd get in, no questions asked.
It's safe to say that everyone involved with this underaged bar situation is at a point in their lives where they would also likely never get denied access to the party, based on both their age and their social status.
If you want to see what Paris Hilton is up to now, you can buy her new book on March 14 and you can check out her show Paris in Love with a Peacock subscription. As for the Kardashian family, make sure to keep up with the 2023 TV schedule for more news about the latest season of The Kardashians, but in the meantime, you can watch the first few seasons with a Hulu subscription.
Your Daily Blend of Entertainment News
Riley Utley is a Weekend Editor at CinemaBlend. She spent many years working in local journalism across the country writing about art, news and sports. One of her favorite films is When Harry Met Sally and she walks around constantly quoting Ted Lasso.