How Some Game Of Thrones Actors Avoid Revealing Spoilers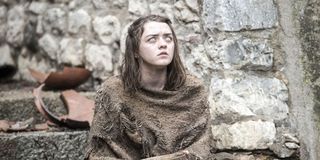 So much happens in any episode of Game of Thrones that any little tidbit from the set could actually be a huge spoiler. Cast members have to be careful about what they give away in interviews. It can't be easy to tease the future of the show without also dropping major clues about what's ahead. Actress Natalie Dormer -- better known as the devious Margaery Tyrell -- found a way to avoid spoiling that's pretty much foolproof. She recently outlined her plan for avoiding spoilers related to the Game of Thrones Season 6 finale:
Natalie Dormer is lucky that she has the self-control not to read ahead to learn all the other characters' plots in Game of Thrones. Plenty of other fans of the show would sell their souls to the old gods and/or the new to get their hands on a script ahead of time. Her reveal to Harper's Bazaar shows that she has as much mettle as her character Margaery, as it would take a strong temperament to avoid all of those spoilers when they are dangled in front of a person. Natalie Dormer didn't even know that Rory McCann would be back as the Hound in Season 6 until she ran into him in the makeup trailer. The Hound's return was unfortunately spoiled via other sources, but Natalie Dormer kept herself in the dark until the makeup trailer.
Personally, I'm curious about which of the other main cast members followed Natalie Dormer's example and stopped reading ahead. Given that Maisie Williams dropped a big spoiler about Rickon showing up in Season 6, it's safe to say that the Arya Stark actress reads the whole scripts. Arya never interacted with Rickon in Season 6, and now she presumably never will. Hopefully Natalie Dormer doesn't check out all of Maisie Williams' interviews; the Rickon reappearance was a game-changer for the plot in the North in Season 6.
Warning: big details are ahead for the events of the Season 6 finale.
Of course, after the events of the Season 6 finale, Natalie Dormer shouldn't have to worry about dropping any spoilers. Along with her father, brother, and most of the other main players in King's Landing, Margaery Tyrell was burnt to ashes when Cersei used wildfire to destroy the Great Sept of Baelor along with everybody inside. Cersei is--as of now--the winner of the game of thrones in King's Landing thanks to the murder of the queen and the suicide of the king.
Cersei going full villain in the Season 6 finale was an awesome twist that Natalie Dormer sadly had to know ahead of time. Margaery was the only character to connect the dots that Cersei's absence meant doom for everybody inside the Sept, so Dormer could not keep herself as unspoiled as the rest of the fans in this case. At least her character's death means that she won't have to be concerned about getting spoiled in the future.
We're still a ways off from Season 7 hitting the airwaves, but you can check out what we know so far about Game of Thrones Season 7 to see what you can look forward to in 2017. Margaery Tyrell and Natalie Dormer won't be around, but plenty of other key players will be in the next round of the Game of Thrones.
Resident of One Chicago, Bachelor Nation, and Cleveland. Has opinions about crossovers, Star Wars, and superheroes. Will not time travel.