9 Upcoming Summer TV Shows That Actually Look Great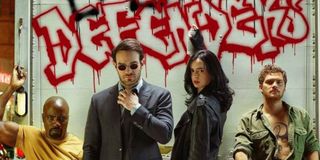 For as long as we can remember, TV has been primarily defined by the fall season, with the spring midseason gaining ground over the years. It's a system that we have become intimately familiar with, as a majority of the best shows premiering in early autumn take a break during the winter, later returning to finish their runs by the time summer rolls around. That system has worked for years, and it used to mean the summer months was a dead zone for high-quality television.
However, the increasingly diversified platforms for television have relatively recently turned summer into an incredibly viable debut period, and we have put together a list of TV shows set for dog days debuts that actually look great. Take a look at our list, fill our your TV viewing calendars accordingly, and make sure to let us know which ones you're excited to watch this summer. Without further ado, let's kick this off with Kevin Bacon's glorious return to television this May.
*I Love Dick - May 12 *
While there's an argument to be made that May doesn't necessarily qualify as a summer month in the realm of film and television, plenty of favorite shows will have already ended their annual runs by the time May 12 rolls around, and blockbuster movies often use May for its less-crowded dates. That's where Dick comes in. I Love Dick is an utterly bizarre and intriguing Amazon original centering on a struggling married couple (Kathryn Hahn and Griffin Dunne) that is forced to contend with the fact that they have both falling in love with the same eccentric professor. It's Kevin Bacon at peak Kevin Bacon, it's from Transparent creator Jill Soloway, and we're all in.
I'm Dying Up Here - June 4
TV shows about stand-up comedy are nothing new, but Jim Carrey's I'm Dying Up Here will shoot for a much deeper emotional punch than shows like Seinfeld, Louie, or Maron ever did. Set during the Los Angeles stand-up comedy boom of the 1970s, the Showtime series centers on a group of aspiring comedians struggling to make it in the cut-throat industry of show business. The series already looks great from everything that we have seen, and the incredibly talented cast (which includes Melissa Leo, RJ Cyler, and Clark Duke) bodes well for the future of this premium cable dramedy. Let's get a Jim Carrey cameo in there, too.
GLOW - June 23
A fictionalized version of a very real (and very bizarre) female wrestling circuit created in the 1980s, the Gorgeous Ladies of Wrestling, GLOW centers on a group of women athletes and entertainers as they develop this organizational wrestling offshoot in an attempt to achieve stardom in any way possible. This will involve plenty of female-centric slapstick comedy led by the great Allison Brie, as well as some incredibly genuine emotional through-lines that will carry the story through its ten-episode first season when the series finally makes its Netflix debut this June. The series was created by Orange is the New Black's Jenji Kohan, and features a supporting cast that consists of Marc Maron, Ellen Wong, and Betty Gilpin.
Will - July 10
Despite the iconography that he has developed as a legend in the worlds of theater and literature, William Shakespeare remains one of history's most mysterious figures. That's a topic that TNT's Will intends to delve into later this summer when the series debuts, with a plotline that will explore the life of the famous playwright during his 20s. The first season was ordered up with an abbreviated 10-episode run, but there's plenty to get excited about with Will, and we have every reason to believe that this could go on to become one of the most intriguing period dramas in recent memory. Let us count the ways...
Midnight, Texas - July 25
With shows like True Blood and Grimm no longer on the air, something needs to step in and fill in the violent and gritty horror-fantasy void that TV audiences have come to know and love over the last few years. That sounds like a job for NBC's Midnight, Texas, adapted from the novel series from True Blood author Charlaine Harris. The series centers on the titular southern town -- a haven for all sorts of beasts and mystical beings -- as its residents band together to protect each other from threats posed by the outside world. Expect vampires, were-tigers, and plenty of other crazy creatures to steal the show.
The Sinner - August 2
The increasing maturity of television content has resulted in the creation of some seriously hard-hitting dramas that rival anything on the silver screen in recent years, and it looks like The Sinner will continue that tradition. The series centers on Jessica Biel's Cora Tannetti, who must struggle with the aftermath of committing an incredibly violent act in broad daylight in front of onlookers -- without any knowledge or memory of why she committed the act in the first place. The series also stars Bill Pullman and looks like it could be a huge win for USA, which has definitely upped the ante with its scripted originals.
Saturday Night Live: Weekend Update - August 10
Satirical news is big business on the small screen, and it's somewhat surprising to see that Saturday Night Live has only just now decided to give Weekend Update its spin-off series, as opposed to standalone specials of years past. It doesn't sound like the overall format of Weekend Update is changing too much as the spin-off comes to life; it's simply a 30-minute version of the segment that allows hosts Colin Jost and Michael Che more real estate to work with in their weekly skewering of major headlines. Let's see if it can compete with personalities like John Oliver and Samantha Bee.
The Defenders - August 18
Over the course of the last two years, Marvel has been building something unprecedented on the small screen with a cohesive and interconnected comic book universe that will come together for the very first time when The Defenders finally debuts this summer. Even with the lackluster response to Iron Fist earlier this year, the combined additional weight of Jessica Jones, Luke Cage, and Daredevil makes the titular team's upcoming battle against The Hand a very exciting prospect. This is Marvel's first legitimate superhero team-up on the small screen, so all eyes are on The Defenders to defend the studio's stellar reputation.
Disjointed - Disjointed
Pot culture becomes more and more mainstream with each passing year, which means pop culture has found increasingly interesting avenues for storytelling about the weed community. Two and a Half Men creator Chuck Lorre created this multi-camera sitcom, too, and it will center on Kathy Bates as a mother who runs a marijuana dispensary with her three sons, and all of the stoner-centric shenanigans that ensue as a result of a the semi-legal business. With the public attitude towards pot veering more and more towards acceptance, expect this Netflix series to take, er, be a big hit when it finally debuts at the end of the summer. Kathy Bates getting blazed on Netflix? Sign us up.
Get excited, TV fans. Not only are there several great summer TV premieres right around the corner, but there are also plenty of great spring debuts left this year as well. Let us know which ones you're excited about in the comments section below!
Originally from Connecticut, Conner grew up in San Diego and graduated from Chapman University in 2014. He now lives in Los Angeles working in and around the entertainment industry and can mostly be found binging horror movies and chugging coffee.
Your Daily Blend of Entertainment News
Thank you for signing up to CinemaBlend. You will receive a verification email shortly.
There was a problem. Please refresh the page and try again.