New Trailer For Bloodline's Final Season Could Not Be More Intense And Crazy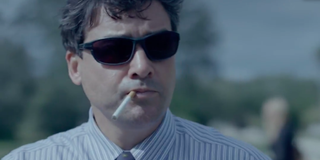 Netflix has debuted a number of fabulous original series that can't be found or equaled anywhere else on television. One series that has been especially well-received by critics is the sweat-soaked thriller Boodline, which follows the somewhat sordid and secretive stories of the Rayburn family. The third and final season of Bloodline will debut later this month, and Netflix has finally released the full trailer for what's to come. It looks like we're in for an intense and insane culmination of the series. Check it out!
Warning: a few F-bombs and major spoiler alert for some big twists to come.
I'm exhausted having just watched the trailer! I'm not sure I'll be able to binge-watch Season 3, if I have to see Coach, er, Kyle Chandler ready to have coronaries by the baker's dozen. I may need to take a few breathers, because it looks like the Rayburns are not slowing down for the final chapters of their story on Netflix. Honestly, it's hard to tell which one of them is going to get hit the hardest. John is going to have his hands full from all sides, and it seems that Meg has just about hit her limit, and then there's Sally, trying to pull the rug out from under everyone. (Really, though, Kevin is probably going to suffer the most, because Kevin.)
Perhaps the biggest shock to come out of the trailer was actually very quick. The split-second shot of Sally, bloody and motionless in the driver's seat of a car, points to the Rayburn matriarch coming to a premature and devastating end in the series. Of course, trailers are often misleading, and the glimpse of a pretty dead-looking Sally could be a dream or a hallucination or a red herring. After all, that would be a huge twist concerning the fate of a major character to give away before the season has even debuted. Although this is a series that started with Danny's drowned body, and then introduced everyone.
For me, the most chill-inducing moment of the trailer -- yes, even more chilling than what seems to have happened to Sally -- is the voiceover toward the end of the two minutes of footage:
I'd argue that the Rayburn family and Co. did more than one bad thing -- multiple series of bad things is closer to the truth -- but it seems like there will be a certain bad thing that eclipses all the others. It's too early to say if it'll call back to things solely from Seasons 1 and 2, or something yet to be done in Season 3, but we can be sure that it will be a game-changer of a reveal. (Eric, you bastard, you better sit back.) Hopefully all the action that is clearly coming in Season 3 won't end in a cliffhanger. That would just be cruel.
Then again, there is the slight chance that the Season 3 finale won't actually be the series finale. Although Netflix has given Bloodline the ax, the creators have made it clear that they were planning an arc of five or six seasons; they could very well shop the series around for a second life on another platform or network, and one that would probably be willing to shell out the money to film in the Florida Keys. We'll have to wait and see.
The third season of Bloodline will debut on Friday, May 26 at 12:01 a.m. PT on Netflix. Check out our Netflix premiere schedule to discover your other streaming options, and don't forget to check out our summer TV premiere schedule. Be sure to drop by our rundowns for cable/streaming and broadcast TV renewals and cancellations as well. Our TV season finale schedule can give you all you need to know about when your shows are ending.
Resident of One Chicago, Bachelor Nation, and Cleveland. Has opinions about crossovers, Star Wars, and superheroes. Will not time travel.
Your Daily Blend of Entertainment News
Thank you for signing up to CinemaBlend. You will receive a verification email shortly.
There was a problem. Please refresh the page and try again.