Where Bloodline's Series Finale Left Things Off For The Rayburns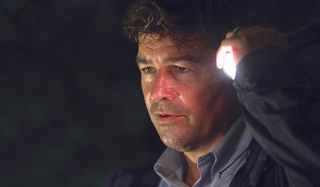 Major spoilers below for Season 3 of Bloodline, which just hit Netflix.
Boasting some of the most well-crafted drama on TV, Netflix's original series Bloodline released its third and truncated final season, put out to sea by the streaming service years earlier than the creators had planned. Thus, the momentum and resolution do feel a bit rushed, but what a gloriously addictive and nerve-shattering rush it was. When the dust finally settled on Rayburn House and the generations that inhabited it, Bloodline ended its acclaimed run as it entered our lives: with Kyle Chandler making chaos-fueled decisions.
Because that description is just a tad too general and simplified, let's go a little deeper into where Bloodline left all of its major players, particularly the dysfunctional Rayburn family. Starting off with the most impulsive of Robert and Sally's four black sheep...
Kevin Rayburn
Season 3 devotes a lot of time expanding the relationship between Leo Norbert Butz's untrustworthy Kevin and Beau Bridges' mysterious and equally untrustworthy Roy Gilbert. Understandable, since their story likely would have gotten stretched out across potential future seasons. To Kevin, who turned into a new man and proud father after successfully pinning Marco's murder on Eric, Roy's attention meant new cars and a fancy marina, as well as much-needed kind words and confidence. His blind eye to Roy's trafficking turned into full-on participation, thanks to a group of Cuban drug runners. Unfortunately (but not surprisingly), the one that Kevin trusted the most was actually a DEA agent. Katie Finneran's Belle surprisingly implicated herself in her husband's crimes by accepting them and aiding in his escaping the country, it was her own failure to turn off her phone's GPS, beyond just getting rid of it altogether, that led the cops straight to Kevin. (More on him and Roy later.)
Meg Rayburn
Perhaps because of the chopped-up storyline, Linda Cardellini appears in Season 3 less than previous seasons and less than other characters, and most of it involves her personal aftermath of discovery Marco had been killed. Though limited, Meg's farewell story is the most justified of all the characters'. Her family loyalties already shattered, Meg reaches her breaking point after a few things occur: she has several struggle-filled conversations with Sally, she finds out Kevin killed Marco (from Sally), she gets shitfaced with Chelsea, and she gets exiled by Marco's brother. And so Meg does what is perfectly befitting of her: she moves far away from Florida, changes her name, gets a big back tattoo, and cuts off just about all communication with her family. Unlike most in the Rayburn clan, she's likely guaranteed herself a positive epilogue.
Sally Rayburn
After Season 2 made it very clear to Sally that her children were morally unkempt reflections of her fractured history with Robert, the queen matriarch finally toppled her own throne in an emotional blaze of glory. Seriously, Sissy Spacek was to be marveled at, particularly as a drunk and callously hateful Sally scathingly indicting John for Sarah's death. While there are absolutely untold skeletons left in her closet, Sally finally made public the much-ballyhooed story of Robert beating a teenage Danny (as John watched on). But she doesn't exactly get to write the end of her own story. Sally attempts to aid her grandchildren's futures and start a new life by selling Rayburn House, but that goal was thwarted by an appraiser's claim that the inn would be underwater in a decade. Itself, a perfect nutshell metaphor for this family.
John Rayburn
John's narrative is where this shortened final season is at its most obscured and intriguing. After an initial ill-planned escape from the Keys, John returns to use his giant metaphorical broom in sweeping up the Kevin/Marco/Eric debacle. It's now from the comfort of a shitty motel, though, and with the companionship of a new work partner and others, rather than the now-elsewhere Diana and the now-separated couple's kids. (Jacinda Barrett unleashes a stellar performance in Diana's big final speech to John.) It's when Season 3 hits the final stretch that things get abundantly wacky, with the red herring introduction of John and Diana's family friends, including a smooch-friendly Mark Valley.
John gets into a diving accident that, naturally, isn't fully explained, and the penultimate episode is a total mindfuck of false starts and psychological underpinnings, hinting that John is suicidal, that Danny actually was a great brother to him, and that John did indeed play a big part in Danny's fall from grace. (Though maybe that was all just delusions.) The guilt is all too much for him, and he indeed admits to to killing Danny and framing Eric, but David Zayas' Sheriff Aguirre doesn't actually accept the confession, strangely enough. Guided by Danny's spirit, John had one more thing to get off his chest, which coincided with something big that Owen Teague's Nolan had to ask him, but Bloodline went to its credits before either spoke. While it seemed like John was going to tell Nolan about Danny's death, there were lots of clues strewn throughout that Nolan and John are much more connected than we thought. But maybe those were my delusions.
Roy Gilbert
It wasn't just John and Nolan that had an off-kilter moment where a surprise paternity reveal seemed imminent. Kevin spent all season chumming with Roy, who brought up more than once that Kevin was like a son to him. The older criminal was indeed trying to make Kevin's life better by way of opportunities and gifts, and it was definitely revealed that Roy and Sally had a history together that took her outside of her marriage to Robert. However, Roy died in the hospital (presumably) after suffering a heart attack, so Kevin is once again without a guiding influence. Well, I guess prison guards count.
Eric O'Bannon
The long-suffering best friend of Danny Rayburn, Jamie McShane's Eric O'Bannon continued suffering in Season 3, and it got worse than ever for him. He was framed for Marco's murder and actually went to jail for it, since the Rayburn family held more weight over the O'Bannon name. (Eric's legal troubles also made life hell for Chelsea, who also wasn't the most innocent person, losing her hospital gig after snagging some painkillers.) Everything that goes wrong for Eric occurs after someone tells him the opposite thing is going to happen, from getting help from John to being able to attend his own mother's funeral. (The same mother he left without an oxygen tank.) And because John's confession went unregarded, Eric likely won't see justice ever come around.
Ozzy Delvecchio
Easily the loosest and least necessary thread in Bloodline's final season, the return of John Leguizamo's Ozzy almost mirrored the fuzzy-headed storytelling of John's final episodes. Having gotten out of prison a somewhat reformed man, Ozzy returns to the keys at the behest of Eric to try and once again use threats to back the Rayburns into a corner. But his efforts are woefully undercooked this time around, and he soon becomes increasingly paranoid and shaken, his fate was eventually sealed when his attempts to meet Roy Gilbert went sideways. Trapped, he shockingly shot himself in the face in the back of a henchman's car.
For better or worse, everything wrapped up with a blood-soaked bow, but we can't help but wonder what would happen next. (Nothing is coming next, though.) All three seasons of Bloodline are currently available to stream in full on Netflix. To see what other great shows are heading to the streaming service, check out our 2017 Netflix schedule, and then hit up our summer TV schedule to find everything else that's hitting the small screen soon.
Your Daily Blend of Entertainment News
Assistant Managing Editor
Nick is a Cajun Country native, and is often asked why he doesn't sound like that's the case. His love for his wife and daughters is almost equaled by his love of gasp-for-breath laughter and gasp-for-breath horror. A lifetime spent in the vicinity of a television screen led to his current dream job, as well as his knowledge of too many TV themes and ad jingles.