Why Jamie And Claire's Big Outlander Reunion Will Be Even More Amazing Than We Thought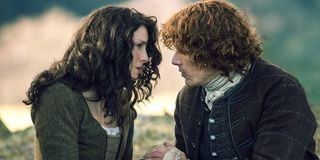 The first two seasons of Starz' Outlander introduced viewers to a romance that literally spanned the ages. Claire Randall was pulled back in time from the 20th century to meet a hunky Scot by the name of Jamie Fraser, and the ensuing love story was as steamy as it was suspenseful. Unfortunately, the Season 2 finale ended with Claire returning to the 1940s while Jamie stayed behind in the 18th century. We won't get them back together right off the bat, but the big reunion scene will evidently be worth the wait. Production designer Jon Gary Steele has teased that the reunion scene will be especially amazing for fans, saying this:
The folks behind the scenes at Outlander are aware of how passionate fans are about Jamie and Claire as both characters and a couple, and they're taking steps to guarantee that we'll be thrilled with what we get. Executive producer Matthew B. Roberts himself wrote the script, and production designer Jon Gary Steele included an Easter egg in the scene when our lovebirds meet for the first time in two decades. Steele's comments to EW seem to indicate that the Easter egg might not be totally obvious to the naked eye, but I'm guessing Outlander fans will rewind the scene enough times to absorb just about every single detail. If it's in there, fans will find it.
Season 3 will be based on the third book in author Diana Gabaldon's Outlander saga, called Voyager. The novel built to the big reunion with so much care and attention to detail that it has gone down as one of the most memorable scenes in the entire book series to date. Readers will have high expectations for how the show handles it, particularly after the hints that book fans should be especially excited for Season 3.
While the recent trailer for the the third season (which we broke down in gif form) didn't show the moment when Jamie and Claire see each other again, it did show enough that we can safely say that the moment will be quite similar to how it unfolded in Voyager. Showrunner Ron Moore has already warned that the major events of the book are going to be reordered and tweaked a bit in order to make sense for the show narrative; as long as the big moments like the reunion are handled well, I think fans will be happy with whatever we get.
We'll have to wait and see. Outlander Season 3 will premiere on Sunday, September 10 at 8 p.m. ET. There's still plenty of time to read (or re-read) Voyager if you want a sneak peek at what's going to happen with Jamie and Claire in the next batch of episodes. Take a gander at our summer TV guide if you need something to watch while we wait for September 10, and our rundown of what we know so far about Outlander Season 3 is definitely worth a look.
Resident of One Chicago, Bachelor Nation, and Cleveland. Has opinions about crossovers, Star Wars, and superheroes. Will not time travel.