The Flash And Legends Of Tomorrow Crossover Revealed In New Trailer, Check It Out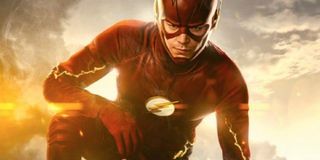 Even with the release of The Defenders and the constant intermingling of the MCU and the DCEU heroes, The CW's Arrow-verse still continues to impress with its consistent crossovers. That idea first came into play when Barry Allen arrived in Starling City during Season 2 of Arrow, and it has spiraled into some great, full-fledged superhero adventures eventually bringing all four different shows together. On that note, it looks like The Flash Season 4 and Legends of Tomorrow Season 3 are getting mashed up prior to the mega-crossover later this year. Check out the new trailer below to see for yourself.
That trailer doesn't offer us much insight into how the shows will cross over, as we only see Wally West and Nate Heywood (who can apparently now catch bullets with his mouth when in his Steel form) talking about saving bad guys for each other. So we're getting a sense that it's a smaller scale story arc than the bigger ones involving the rest of the heroes, such as the major Arrow-verse crossover in last year's Dominators-themed "Invasion." In that way, it feels more like last season's musical crossover episode -- which was less of an Arrow-verse convergence and more of a fun one-off. Still, it should be a blast to watch Wally getting into some heroic hijinks with at least one character he doesn't get to hang out with on his own show.
Then, of course, there's the one distinct character who arguably creates the greatest sense of shared continuity between The Flash and Legends of Tomorrow, Eobard Thawne. Although he found himself erased from existence at the end of his quest to find the Spear of Destiny, it looks like the Non-Scarlet Speedster will still show up during the events of this upcoming season. That said, we can't be sure if it's going to happen in the crossover, and it doesn't look like he's going to be in the best state (of mind or body) when he finally comes to town.
We've seen that look on his face before, and it nearly always happens when someone erases him from a timeline. I know he's a villain, but you almost have to feel sorry for his consistently bad luck.
Aside from the potential Legends of Tomorrow/The Flash crossover teased in that trailer, we can also glean a few other key details about each show's upcoming season, and then some. Specifically for The Flash, it looks like Barry Allen will finally get a brand new Flash suit -- which has been teased for some time. We only get one quick shot of Barry standing still in the outfit, but it appears to have a bit more leather on the torso, and it seems somewhat bulkier. (Maybe he ate a lot of junk food in the Speed Force?)
As for Legends of Tomorrow, it looks like we can generally expect more of the same ridiculous time-travel shenanigans that have made the show work thus far. We see newly christened Captain Sara Lance kicking some major ass, Ray Palmer throwing punches (even though his suit can fire lasers...), and all of the weirdness that makes it different from a typical DC show. We're due for some significant changes and fantastic crossovers this year, so we cannot wait to see what the small screen DC universe brings us next.
The Flash and Legends of Tomorrow will both return to The CW on Tuesday, October 10 at 8 p.m. ET and 9 p.m. ET, respectively. Until that highly anticipated premiere date rolls around, make sure to check out our summer TV premiere guide, as well as our fall TV premiere guide, for more information on all of the major small screen debuts coming in the next few months.
Originally from Connecticut, Conner grew up in San Diego and graduated from Chapman University in 2014. He now lives in Los Angeles working in and around the entertainment industry and can mostly be found binging horror movies and chugging coffee.
Your Daily Blend of Entertainment News
Thank you for signing up to CinemaBlend. You will receive a verification email shortly.
There was a problem. Please refresh the page and try again.