The Biggest And Wildest TV Deaths Of 2017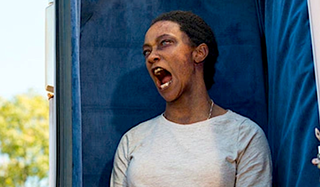 As everyone is fully aware, 2017 was an endlessly devastating year for pop culture, as fans mourned the loss of entertainers like David Cassidy, Jerry Lewis, Tom Petty, Harry Dean Stanton and more. It's not like watching TV for escapism helped very much, since major TV deaths were seemingly at an all-time high all across the the board. From parents to spouses to leaders to warriors and everyone in between, all manner of TV characters left the small screen in 2017, and in an abundance of different, and sometimes horrifying, ways.
Grab a pack of tissues, or perhaps a bag of party favors, as we go through all the biggest and most impactful TV deaths of 2017. Given the nature of this feature, let it be known that SPOILERS ARE EVERYWHERE, so if you haven't been faithfully watching everything on television lately, you might get a few surprises. Be warned.
Rayna James - Nashville
Though Nashville found new life at CMT after its broadcast cancellation, not all of its main characters survived the show's first season at its new home. In the middle of Season 5, Connie Britton's golden-voiced Rayna James found herself the victim of a stalker and then the victim of a car accident. She did not survive the latter, though, and Nashville was forever altered. Perhaps she'll be remembered fondly in the show's final season?
Stick - The Defenders
One of many small screen MCU characters to show up in Netflix's mash-up adventure The Defenders, Scott Glenn's gruff mentor Stick attempted to ensure Matt & Co.'s safety, but eventually found himself at the receiving end of Elektra's deadly swordplay. It was one of the season's biggest shocks, but perhaps it's not a worst-case scenario, since Elektra herself proves the MCU is no stranger to resurrecting characters.
Donna Gable - Kevin Can Wait
Donna Gable's passing was one of the most talked-about deaths on network TV in 2017, and it didn't even happen on screen. In fact, it barely happened on Kevin Can Wait itself, with actress Erinn Hayes' absence initially explained away with a lame and viewer-enraging gag. Donna's death was essentially a way to get Leah Remini back on screen with her former TV co-star Kevin James, and while the show's ratings have dipped some, it's unclear if Donna's death is the main cause.
Sasha Williams - The Walking Dead
The Walking Dead Season 7 started off with the brain-bashing deaths of Abraham and Glenn, and when the season came to a close, it was Sasha that viewers were saying farewell to. And what a farewell it was, with the character sacrificing herself in an attempt to take down the dreaded Negan. It didn't work, but her death sparked the onset of the All Out War, and Team Family could have used her weapon-based know-how in Season 8.
Michelle Hanna - NCIS: Los Angeles
Though Aunjanue Ellis' Michelle Hanna is one of the characters on this list that doesn't count as a main character, that had little effect on how shocking and meaningful her death was in the Season 8 finale. Despite only appearing sporadically, Michelle's deep-cover CIA work made her more than just Sam's wife, and we absolutely expected her to live through her kidnapping. Unfortunately, she died from carbon dioxide poisoning after being locked in a portable freezer. A truly terrible way to go.
Philippa Georgiou - Star Trek: Discovery
TV fans were pumped when it was announced Crouching Tiger, Hidden Dragon actress Michelle Yeoh was heading to space for Star Trek: Discovery. And those same fans were left with their jaws on the floor after Yeoh's Shenzhou captain Philippa Georgiou was killed off in the second half of the two-episode series premiere. It was arguably necessary to move the story forward, but that didn't make it any less disappointing.
Bob Newby - Stranger Things
Magnifying its 1980s vibe for Season 2, Netflix's horror hit Stranger Things recruited child-star-turned-genre-actor Sean Astin to play a new beau of Winona Ryder's Joyce. Bob was a fan favorite addition, too, winning over viewers almost immediately, though that attention unfortunately didn't save him. Bob was not meant to retire in Hawkins, and he met a most brutal fate, being completely torn apart by a pack of Demo-dogs as Joyce looked on. Bob, we hardly knew ye!
Mr. Kaplan - The Blacklist
From The Blacklist's earliest days, Red Reddington looked to Susan Blommaert's Mr. Kaplan to help take care of crime scene clean-up, but their relationship took a distinctly dark turn in Season 4, when Red had seemingly shot Mr. Kaplan to death. But it was then revealed she was the mastermind behind Red's downfall, as well as a former nanny to young Liz/Masha. And in order to guarantee that Liz discovered her true connection to Red, Mr. Kaplan jumped off a bridge. She might not be so happy with the results, though.
Mary Stuart - Reign
Given historical context, Adelaide Kane's Mary Stuart was never meant to reach any ripe old ages on the small screen. And when The CW announced that Reign would be ending with Season 4, fans knew the royal drama would reach a fever pitch, but there was still sadness to be found whenever Mary placed her head down into the guillotine. Especially since Reign balanced Mary's death by giving her a "happy" ending of sorts, allowing her to go out with joy and reuniting her with Toby Regbo's Francis in the afterlife.
Martin Stein - DC's Legends of Tomorrow
The Arrow-verse's "Crisis on Earth-X" crossover event was a first-rate affair, giving fans lots of big surprise appearances and head-scratchers to think about. Perhaps the most defining moment came in the Legends of Tomorrow finale, when Victor Garber's Martin Stein sacrificed himself so that his Firestorm partner Jax could live. The CW's superhero shows have a habit of resurrecting their dead, but not even that knowledge did much to dampen Garber's emotional performance.
Belle - Once Upon a Time
For its first six seasons, Once Upon a Time introduced and expanded the relationship between Emilie de Ravin's Belle and Robert Carlyle's Rumplestiltskin, and even though Season 7 has been a complete reinvention, the show still managed to close the storybook on Belle's tale. And it was in a most gracious fashion, as Belle set up her own doomed fate in order to save Rumple from his continued possession by the Dark One.
Alex Kirkman - Designated Survivor
Designated Survivor has remained a ratings winner for ABC in Season 2, but the midseason finale made a huge change to the central set of characters by killing off Natascha McElhone's Alex Kirkman just after she'd squashed the bogus federal investigation targeting her. Alex's shocking death was already anticipated by fans who previously noted that McElhone would be leaving Designated Survivor to star in a new Hulu series, but it was still shocking all the same.
Peter Quinn - Homeland
While it's arguable among Homeland fans, Rupert Friend's Peter Quinn was basically living on borrowed time throughout the course of Season 6. With a big personality change following his near-death in Season 5, Quinn faced more personal demons than ever in his final year, and he eventually paid the ultimate price for the country by driving a car into a hail of gunfire in order to save Carrie and President-Elect Elizabeth Marvel. Fans were not happy about it at all, but then deaths aren't meant to inspire happiness.
Paul Kellerman - Prison Break
Prison Break made a relatively surprising return to Fox in 2017, giving fans another tattoo-covered set of conspiracies to soak up. And while the action-packed thriller might indeed be returning for a sixth season, the show almost definitely won't be bringing back Paul Adelstein's politically minded Paul Kellerman. Sadly, Kellerman didn't get all that much to do in the revival season, and he didn't make it halfway through the nine-episode season before taking a few fatal bullets.
Littlefinger - Game of Thrones
One of TV's most devious and manipulative characters, Aiden Gillen's Petyr "Littlefinger" Baelish spent Season 7 unsuccessfully attempting to drive a wedge between Sansa and Arya. Instead of certain victory, Littlefinger found himself completely exposed, with the Stark sisters airing his murderously dirty laundry out. And in a moment of gory poetic justice, Arya permanently ended Littlefinger's plotting by savagely cutting his throat with his own Valyrian dagger.
Travis Manawa - Fear the Walking Dead
For better or worse, The Walking Dead universe needs to rely on big and shocking deaths in order to sate fans' interests and expectations, and Fear the Walking Dead kicked off its risk-taking and rewarding Season 3 by killing off Cliff Curtis' Travis Manawa just as it looked like the family was getting back together again. Luckily for fans, his death allowed the show to further develop and explore Kim Dickens' Madison and her children in new ways.
Linda Reagan - Blue Bloods
CBS' Blue Bloods has been as dependable a drama as any for its loyal fans, but then Season 8 came along and unceremoniously killed off Amy Carlson's Linda Reagan in an unseen helicopter crash. It was a strange situation, since Carlson officially decided to leave the show after her seven-year contract was up, which meant the Blue Bloods team had to explain her absence when Season 8 began. Unfortunately, many fans decided this was not the ideal way to do it, and even Carlson had problems.
Mary Watson - Sherlock
Sherlock fans were waiting ages for Season 4 to finally arrive, but after it aired, many wished its time had never come. Though Amanda Abbington's Mary Watson had served as a fine addition to the Sherlock-Watson crime-solving dynamic, it was decided that the season premiere was where the adaptation would embrace Mary's fate in Arthur Conan Doyle's source material. Though instead of being vague about her death, as it went in the books, Sherlock gave Mary a hero's death, having her take a bullet to save Holmes' life.
Frank Randall - Outlander
Few TV relationships can be suitably comparable to that of Outlander's time-traveling Claire and non-time-traveling Frank. Season 3 saw a pregnant Claire returning to the present day, where she and the adulterous Frank spent years trying to rekindle what they once had. They didn't succeed, though, and after a particularly heavy argument concerning Claire's undying love for Jamie, Frank got into an offscreen car accident. As well, Tobias Menzies' Outlander ancestor, Jonathan "Black Jack" Randall, was killed off in the Season 3 premiere.
Norman Bates - Bates Motel
With Psycho as its source material, the deliciously sordid Bates Motel checked out of viewers' lives with a well-played spin on Marion Crane's much-celebrated entrance into Norman's life. By the end of Season 5, Norman's secret "Mother" identity was no longer a secret to all, and those tightly wound final episodes ended with Norman choosing death over a presumably medicated future without Norma as his mental comfort. That he forced Dylan to kill him guarantees Norman's haunting legacy will live on.
William Hill - This Is Us
As a father who abandoned his son at a fire station, Ron Cephas Jones' William Hill could have been treated like a pariah on This Is Us. Instead, viewers got to see just as many of his good attributes as his negative ones, and his reconnection with Sterling K. Brown's Randall Pearson made for one of 2017's most interesting TV relationships. Unfortunately, it was a temporary one, as William succumbed to stomach cancer in a predictably tear-worthy manner.
Perry Wright - Big Little Lies
Until the season finale of HBO's Big Little Lies, viewers (who hadn't read the book) weren't aware of who'd been killed, and jaws likely dropped when Alexander Skarsgård's abusive rapist Perry Wright was revealed as the victim. Of course, there were likely some cheers, too, since Perry was a monster of an antagonist, and we're perfectly fine with the TV version keeping Bonnie and the other women out of trouble.
Clifford DeVoe, Sort Of - The Flash
For Season 4, The Flash parted ways with its speedster villains and introduced the mentally complex foe The Thinker, first brought to life by Neil Sandilands' Clifford DeVoe. The Thinker is always one step ahead of Barry Allen, and he was definitely moving faster than viewers whenever he set up his own death in order to frame Barry for murder. Of course, Clifford's consciousness was transferred into the mind of Kendrick Sampson's Dominic Lanse, so is he even technically dead?
Rosario Salazar - Will & Grace
Like few TV revivals before it, Will & Grace returned to primetime with just as much critical acclaim and fan approval as the initial run, though many were saddened by the absence of retired actress Shelley Morrison, who portrayed Karen's put-upon housekeeper Rosario. When Will & Grace finally addressed the character, it came during a heartwarmer of an episode, in which Karen tried to give her late friend a quinceañera on top of a funeral. However unsuccessful that was, Megan Mullally killed it when delivering that emotional eulogy monologue.
Sharon Raydor - Major Crimes
While never firmly entrenched by the cultural zeitgeist, Major Crimes has been a solid hit for TNT, which made news of its cancellation all the more disappointing. Creator James Duff really wanted fans to feel that impact, too, as proven by the shocking death of Mary McDonnell's authoritative Sharon Raydor. Despite Sharon's poor health foreshadowing her demise, the character's death was still as shocking a moment as any in Major Crimes' history, with the only silver lining being that it came early enough to give the characters time to mourn.
BOB - Twin Peaks
True to form, David Lynch and Mark Frost delivered some truly bonkers TV with Showtime's Twin Peaks revival, and it didn't get much weirder than any and all moments involving the late Frank Silva's nightmarish antagonist BOB. In 2017, BOB existed as an impulsive and violent orb whose origin was revealed to tie back to the first atomic bomb test. After being released from Evil Cooper, the BOB orb was destroyed by the green-fisted prisoner Freddie. As you do, Twin Peaks.
Michael Cordero - Jane the Virgin
As the man who took away Jane's titular virginity, Brett Dier's Michael Cordero was likely expected to stick around for the duration of Jane the Virgin's run on The CW. Especially after everyone feared for his life after he was shot in the Season 2 finale. His relationship with Jane was strained somewhat by his ambition to return to the police force, and unfortunately, a deadly spike in Michael's blood pressure -- a complication caused by his gunshot injury -- killed him before pure bliss could be reestablished.
Geillis Duncan - Outlander
Outlander Season 3 took its time in reintroducing Geillis Duncan, but it was worth the wait, as her particular brand of crazy finally allowed Claire and Jamie to find Young Ian. Unfortunately, Geillis' mission was to kill Young Ian so that she could travel through time and murder Brianna in order to fulfill a prophecy (as one does), which meant that Claire had to take her out. Geillis nearly had her head chopped off with a machete, thus ending her scheming on Outlander.
Nate Kulina - Kingdom
The story of the Kulina men at the heart of Kingdom was as brutal and uncomfortable as any MMA fights seen on the show. Nick Jonas' Nate had the best chances of reversing all the bad blood, but things took a different turn near the end of Season 3, when he revealed he was gay to his father Alvey. The emotional and physical fallout from that admission left Nate dead of a bouncer's gunshot wound, which served as an unplanned end, but still a tragically fitting one, for the cancelled drama.
Deucalion - Teen Wolf
One doesn't need eyesight to know that Gideon Emery's Deucalion was a force to be reckoned with for other Teen Wolf characters. In fact, just before he was killed, Deucalion was attempting to pass on some of his badassery by teaching Scott and Malia how to fight "blind," as it were. Unfortunately for his fans, the former Alpha Pack founder was soon shot down by Tamora and other hunters, and he died after further building up Scott's confidence.
Shiva - The Walking Dead
The Walking Dead Season 8 has seemingly killed off dozens of Saviors per minute, but the protagonists had better luck at staying alive. Well, except for that ambush on The Kingdom, which destroyed Ezekiel's army and nearly destroyed his verve. And before the show could start building Ezekiel back up to his King status, The Walking Dead went and murdered his tiger companion Shiva in a truly ridiculous way. We knew she wouldn't be around forever, but it still hurt.
Malcolm Merlyn - Arrow
Few characters in The CW's Arrow-verse are as well decorated as John Barrowman's Malcolm Merlyn, a former leader and member of myriad evil organizations. But for all the ill will that he'd caused over the years, Merlyn managed to exit the franchise with some heroic martyrdom, as he sacrificed his life via landmine to save his daughter Thea and to also eliminate a bunch of Talia al Ghul's deadly cult members. We always hope to see more of Barrowman, though, so our fingers are staying crossed for his return.
Gordon Clark - Halt and Catch Fire
It makes a certain amount of sense that the brilliant mind of Halt and Catch Fire's Gordon Clark could only be taken down by itself, and the sad-and-expected death finally happened in the final season. From Season 2 onward, Scoot McNairy's Gordon was hampered by a degenerative brain disease, which wasn't touched upon much in Season 4, making his pre-date-night passing all the more sudden and shocking. Thankfully, Gordon's death came early enough in the season as not to emotionally derail Halt and Catch Fire's fantastic final episodes.
Crowley - Supernatural
Having already performed an exorcism on the POTUS in Season 12 of Supernatural, Mark A. Sheppard's Crowley later joined the fight in trying to defeat Lucifer and shut down Hell. Unfortunately, someone had to die to seal the deal, and Crowley volunteered to be that sacrifice, and he's been gone ever sense. Of course, Castiel was killed by Lucifer right after that happened, and Misha Collins' angel was brought back for Season 13, so perhaps there's a future for Crowley somewhere?
Tom Yates - House of Cards
In the scheme of things, it's almost hard to believe that biographer Tom Yates lasted as long as he did on House of Cards, since he was privy to as many of the Underwoods' secrets as anyone else in the world. But his final chapter came in Season 5, and was extremely notable for being the first time viewers watched Claire directly causing someone's demise. Oh, it was also notable because his death-by-poisoning came while they were in the middle of having sex. There's a rigor mortis comment to be made here...
Tom Keen - The Blacklist
When Ryan Eggold's spinoff The Blacklist: Redemption got cancelled earlier this year, it only made sense that he would return to the flagship series for more familial drama. He did just that, but things started out with some bloody and alarming foreshadowing that teased Tom Keen's impending death in Season 5 of The Blacklist. Surprisingly enough, that foreshadowing was legitimate, and Tom was killed off in the midseason finale. There are still several mysteries in Liz's life, but Tom won't be around to help solve them anymore.
Mrs. S - Orphan Black
Maria Doyle Kennedy's Siobhan Sadler, who will always be Mrs. S to us, wasn't exactly the most textbook caretaker in TV history, but she proved time and again during Orphan Black's five seasons that she would do anything for her family. And she indeed made the ultimate sacrifice in going public with the Neolutionist data and in taking out James Frain's Ferdinand before he could go after Sarah and Kira. Now let's dive into her past for a prequel series, shall we?
Stefan Salvatore - The Vampire Diaries
Over the course of its eight seasons, one of The Vampire Diaries' core facets was the relationship between Paul Wesley's Stefan Salvator and Ian Somerhalder's Damon Salvatore, and the importance of that bond remained strong all the way up to the series finale. Though it seemed like Stefan wouldn't be able to sacrifice himself in place of Damon while ensuring Katherine's demise and saving Mystic Falls, the more compassionate vampire was the one to go. And he even turned his brother back into a human first.
Hannah Baker - 13 Reasons Why
Hannah Baker is unlike everyone else in this list in that her story, as seen in 13 Reasons Why, wouldn't even be told if it wasn't for her death. In the Netflix series based on Jay Asher's novel, Katherine Langford's Hannah is a complicated teen whose suicide serves as a catalyst for a group of high schoolers to evaluate their personal roles in her death. Despite being dead for the story's main thrust, Langford was thankfully still able to deliver a terrific performance.
Raina St. Patrick - Power
It seems like every character on Power is destined for tragedies and turmoil, and things hit a fever pitch in Season 4's penultimate episode when Ghost's daughter Raina found herself the unwitting victim of Ray Ray, who was actually intending to kill the redemption-bound Tariq. Fans suspected he'd be the one taking the fatal fall, and were then floored whenever the genuinely virtuous Raina was the actual victim. To be expected, neither Tariq nor Ghost were ready for it, and they most definitely won't ever forget it.
Abby Donovan - Ray Donovan
Paula Malcolmson's Abby Donovan was similar in death to how she was in life on Ray Donovan, and by that I mean she polarized a lot of viewers. Though fans knew since Season 5's early days that Abby wouldn't make it to Season 6 alive, it wasn't until the eighth episode that she made the decision to opt out of future cancer treatments by forging her own way into the afterlife. And with her daughter Bridget making the heartbreaking choice to help it along.
Viserion - Game of Thrones
Game of Thrones does a lot of things that no other TV shows can do, and one of those things is "break a lot of fans' hearts by killing off a massive dragon." Though shorter than previous seasons, Season 7 often felt bigger, and no death had a more impressive wingspan than that of Daenerys' Viserion. Of course, that death was temporary, as the Night King resurrected the dragon in an antagonistic fashion, but it was still a shocking way to change the game for the Mother of Dragons.
Ofelia Salazar - Fear the Walking Dead
When Fear the Walking Dead started, Mercedes Mason's Ofelia was a sheltered daughter who clearly wasn't meant to fare well in the zombie apocalypse. But by the time she reappeared in Season 3 after a brief hiatus, Ofelia had reached peak maturity, though it meant getting her hands quite dirty in all senses of the word. Still, she wasn't destined for permanent survival, and she tragically took her last breath minutes before reuniting with her father Daniel.
The Twelfth Doctor - Doctor Who
Doctor Who is the show that just keeps on going by recasting the lead role whenever the star decides to move on from the series. The recasting means that Doctor Who lives on, but it also means the deaths of each incarnation of the Doctor. The 2017 Doctor Who Christmas special saw the death of the Twelfth Doctor and his regeneration into Jodie Whittaker's Thirteenth Doctor. His final scene was sad, poignant, and meaningful as he used his last moments to give some advice to his next incarnation.
With more and more scripted TV shows going into development each year, we're almost certainly going to see just as many characters meeting their makers in crazy ways in 2018. To see when all of those death-happy series will be showing up in primetime in the near future, head to our midseason premiere schedule.
Your Daily Blend of Entertainment News
Assistant Managing Editor
Nick is a Cajun Country native, and is often asked why he doesn't sound like that's the case. His love for his wife and daughters is almost equaled by his love of gasp-for-breath laughter and gasp-for-breath horror. A lifetime spent in the vicinity of a television screen led to his current dream job, as well as his knowledge of too many TV themes and ad jingles.