How The Big Bang Theory Just Solidified Penny And Amy's Friendship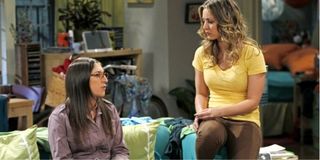 Warning: Spoilers ahead for tonight's episode of The Big Bang Theory. Please check out one of our other awesome articles if you haven't caught up yet!
As fans of The Big Bang Theory know, the friendship between Penny and Amy has always been a bit one-sided. While super-smart and sorta awkward Amy was taken with Penny right from the start, Penny was (especially at the beginning) a bit overwhelmed by Amy's overtures of friendship and a bit uncomfortable around her. Well, tonight, that all changed when Penny realized, after many, many years of knowing Amy, that she's actually her best friend. Here's how it all went down.
With Sheldon and Amy currently planning their wedding, the search is on for who will provide best man and maid of honor duties. Early in the episode, they admit to each other that they're afraid of either picking the wrong person among their friends to fulfill the duties of the jobs, or simply not looking forward to hurting someone's feelings when they don't ask them. After a dinner with Raj, Penny, Howard and Leonard where the conversation turns, uncomfortably, toward maid of honor duties when Howard reveals that Bernadette believes she's already been chosen to fill the role, Amy and Sheldon decide to use "metrics" to pick who will stand by them at the alter. The idea being that they could then pretend they weren't at fault for making the decisions, since they used numbers to make their choices.
They devise a series of tests to see who has the best attributes to fill each role, and commit to testing their friends secretly as they keep score on each attribute. After a lengthy series of challenges, Penny and Raj are coming out on top, but they then realize that either sex could work in either role, so they open things up and give everyone the same test. Claiming that it's simply a "brain teaser" they send all their friends a puzzle that involves figuring out which person is ok to sit next to which other person at a dinner, based on each person's likes and dislikes.
Obviously, this is a wedding reception seating chart test based on Amy and Sheldon's real family members, and when all their friends realize they were all given the puzzle, they manage to figure out that they've been testing them to see who will be best man and maid of honor. As could be expected, this pisses everyone off, and they all tell them they don't want to be in their wedding anyway.
When Sheldon realizes the error of his ways, apologies to the guys and chooses Leonard, he goes home and tells Penny that Amy will likely come to her senses soon and just pick her over Bernadette. That's when Penny has a revelation. She claims to Leonard that she doesn't care because she and Amy aren't that close anyway, but as she lists all the ways in which Amy has helped her out over the years she soon stops dead in her tracks and says "Oh my god, Amy is my best friend." And, because this is Penny, it prompts immediate anger when she realizes that her best friend didn't ask her to be maid of honor.
Penny then bursts into her former apartment to yell at Amy for not just asking her out-right because she's Penny's best friend, which leads to Amy screeching "Bestie!" as she runs across the room and hugs Penny. The deal, then, had been sealed, and its a change in friendship status that's been a long time coming.
You can check out the now fully-fledged friendship between Amy and Penny when The Big Bang Theory airs Thursdays on CBS (opens in new tab). For what you can watch on TV in the coming weeks, head over to our midseason premiere guide, and be sure to check out The Cord Cutter Podcast for all the info you need on streaming in the new year!
Yennefer's apprentice, Gilmore Girl; will Vulcan nerve pinch pretty much anyone if prompted with cheese...Yes, even Jamie Fraser.
Your Daily Blend of Entertainment News
Thank you for signing up to CinemaBlend. You will receive a verification email shortly.
There was a problem. Please refresh the page and try again.