2015 Golden Globes Nominations: The 6 Biggest Shocks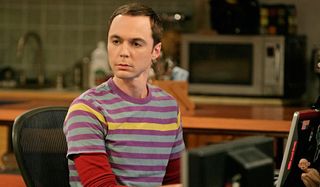 Every year during awards seasons, there are plenty of surprise nominations, along with plenty of big snubs. This year's Golden Globes nominations dropped on Thursday morning, and the TV nominations were not immune to a few shockers. From people who didn't get nominated to shows that did, here are the biggest surprises from the 2015 Golden Globes nominations.
Where Did All This Love For The Affair Come From?
Showtime's The Affair has earned some steady buzz, both for its unique way of storytelling (it tells the same story from two different points of view each hour) and its performances, led by Dominic West and Ruth Wilson. Still, it's a gem of a show that is tucked away on a subscription cable network that many people don't subscribe to, making it totally shocking that the drama earned a "Best TV Series, Drama" nod not to mention had enough room to throw both West and Wilson a nod, as well. For a show that averages well under a million viewers an episode, that's pretty impressive.
WTF, Brooklyn Nine-Nine?
Last year, in a surprise move that likely helped to keep Fox from canceling its then-struggling comedy, Brooklyn Nine-Nine not only earned a surprise nomination but won the damned "Best Television Series – Musical or Comedy" category. This year, the show faced some heavy competition from streaming service shows, including Amazon's Transparent and Netflix's Orange is the New Black, but we're not sure it dipped in quality enough that it shouldn't have at least earned a nod. I guess we should just be thankful the show has found a nice niche, ratings-wise, in Fox's Sunday night lineup.
No Modern Family?
While ABC's staple comedy Modern Family hasn't actually won "Best Television Series – Musical or Comedy" since 2012, the show has received steady nominations in that category, along with members of the cast earning nods for their performances on the show. This year, Modern Family earned nothing. Not one single teeny tiny nomination. There was definitely some stiff competition this year, but it's hard to believe that the era of the obvious Modern Family nods may well be over.
Where's Julia Roberts?
Just a couple of months after Julia Roberts lost to Kathy Bates at the Primetime Emmys, she didn't even nab a Golden Globes nomination for her portrayal of Dr. Emmy Brookner in The Normal Heart. It's not that HBO's original movie totally got snubbed by this awards committee, but it's difficult to argue that Roberts' speech to the grant committee in Normal Heart doesn't deserve a nod while Michelle Monoghan's frustrated wife performance in True Detective did. It's most certainly one of today's big shocks.
Jane The Virgin Got More Than One Nomination?
If you haven't been watching the CW's Jane The Virgin, you should. It's great. A simultaneously wacky criminal case intermixes with completely relatable family drama in a way that is unlike anything else TV has to offer. The telenovela-styled drama has been receiving buzz, mostly for lead Gina Rodriguez's likable performance and it's great that the Golden Globes took notice. However, I think we were all a little shocked by that "Best TV Series, Musical or Comedy" nod. You go the CW, you go.
Poor Jim Parsons
Like Modern Family, The Big Bang Theory's Jim Parsons has cleaned up with Awards nominations over the years. Sheldon's portrayal of the weird and sometimes socially insensitive Sheldon has been an obvious standout for a long time with awards committees, but this year, Louis C.K., Jeffrey Tambor, William H. Macy, Don Cheadle, and even Ricky Gervais beat him to the punchline. The Big Bang Theory may still be going strong in the ratings, but it'll take more than a few laugh track jokes to get Parsons back in the awards game. (On the bright side, we loved you in The Normal Heart.)
You can check out the full list of the TV Golden Globes nominations, here. Or check out the full list of movie nominations.
Amazing Race & Top Chef superfan with a pinch of Disney fairy dust thrown in. If you've created a rom-com I've probably watched it.
Your Daily Blend of Entertainment News
Thank you for signing up to CinemaBlend. You will receive a verification email shortly.
There was a problem. Please refresh the page and try again.