Roseanne Review: ABC's Revival Is Perfect For OG Fans, But Maybe Not Newcomers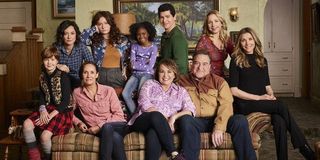 The moment that fans of ABC's hit '90s sitcom Roseanne have been waiting for is finally upon us. After almost a year, the revival is about to hit the small screen with many of our favorite faces and some new ones, as well. If you've been looking forward to seeing what kind of trouble the Conner/Harris clan has been getting up to in good ol' Lanford, Illinois, the revival should be right up your financially strapped alley. But, if you're planning to tune in without the benefit of being a long-time fan, it's unlikely that the new episodes of Roseanne will be what you're looking for when it comes to TV comedy.
The good news is that this nine episode season of Roseanne does a lot to take fans back to familiar territory. The revival will follow Roseanne (Roseanne Barr) and Dan (John Goodman) as they deal with living on a fixed income while continuing to help shepherd their, now grown, children through life. Familiar faces abound, as Becky (Lecy Goranson), Darlene (Sara Gilbert) and DJ (Michael Fishman) are all still present in their parents' lives, along with Darlene's kids Harris (Emma Kinney) and Mark (Ames McNamara), DJ's daughter Mary (Jayden Rey) and Roseanne's sister Jackie (Laurie Metcalf). As could be expected from a show that deals in working class lives, each of the Conner kids is struggling with making ends meet and dealing with some very real world problems in ways that frequently baffle Roseanne and Dan.
Becky, for instance, is barely making it with a waitress job at a local Mexican restaurant, and has, much to Roseanne's chagrin, decided to become a surrogate to middle class Andrea (Sarah Chalke) in order to make some major cash. Roseanne was fine with the idea of Becky simply carrying Andrea's baby, but when she finds out that Becky is actually donating her own eggs for the process, she claims that it's like Becky is "selling off one of their grandkids," and refuses to accept her decision.
Roseanne, which comes from original executive producers Barr, Tom Werner and Bruce Helford, and new executive producers Sara Gilbert, Whitney Cummings and Tony Hernandez, is on track to follow the original run in covering some heavy real life topics. Not only does the show deal with unemployment and living from check to check, but issues like aging, retirement, medical insurance coverage, chasing your dreams versus being responsible, the current political climate, gender identity, opioid addiction, the war and bullying are also major plot points. And, that's just from the three episodes of the revival I was able to preview, so there's no doubt that fans looking for a comedy that tackles issues that hit home will be able to find that here.
The main issue I had with Roseanne was, unfortunately, the comedy. The first episode, especially, is such a throwback to original run Roseanne that it actually felt like I was watching an old episode that simply hadn't held up that well. As the family sniped at each other, throwing low blows that made fun of everything from each other's age, weight, life choices and general intelligence, not only did I feel I'd seen it all before, but I didn't laugh once. Obviously, that's not great for a comedy in any era. I will say that during the third episode I watched, which will actually be the seventh of the revival season, the feel of the show had picked up and I was actually laughing a bit, but when you have a season that's only running for nine episodes, that's a little late to be bringing in the big comedy guns.
Of course, I will concede that my issues with the humor in Roseanne might be because I was never a super fan. I watched it casually the first time around without it ever being appointment viewing for me, and had completely stopped watching several years before it went off the air in 1997. This is what makes me think that those who were completely on board with the series the first time around will probably still be 100% sold this time, while anyone looking to give Roseanne a try for the first time, or after not watching much of the original run, will likely feel the show's age, despite the fact that it showcases so many current topics.
All in all, Roseanne looks like a safe, nostalgia-filled bet for those who've really been missing the show in the two decades since it ended the first time around. It you're hoping to give it a try without being a mega fan, though, you might want to settle in for the long haul in order to actually get some laughs out of it. Roseanne comes back to ABC on Tuesday, March 27 with an hour-long premiere. For more on what you can catch on the small screen in the coming weeks, be sure to check out our midseason premiere guide.
Yennefer's apprentice, Gilmore Girl; will Vulcan nerve pinch pretty much anyone if prompted with cheese...Yes, even Jamie Fraser.
Your Daily Blend of Entertainment News
Thank you for signing up to CinemaBlend. You will receive a verification email shortly.
There was a problem. Please refresh the page and try again.