Roseanne's Revival Explained Why David And Mark Aren't Around, And We're Bummed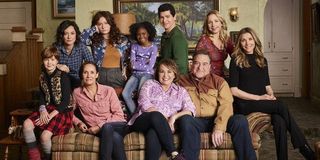 Warning: Spoilers ahead for the hour-long premiere of the Roseanne revival! Read at your own risk!
One of the big questions people had when it was decided that Roseanne would come back to the small screen was whether or not all of the original cast could (would) reprise their roles on the classic family sitcom. When we found out that pretty much everyone would be back in some capacity, though, fans were left to wonder how the show would explain David only appearing in one episode and Mark not showing up at all. Well, the Roseanne revival has finally debuted, and now we know why the Healy brothers aren't a bigger part of the show this time around, and, it's seriously got us bummed.
Let's start with David, since this reveal was a little less bummer-inducing than the other. When Roseanne opens, it's made clear that Darlene and her two kids, Harris and Mark, have moved in with Roseanne and Dan and have been living with them for only a week. As you might imagine since David's name isn't mentioned, this means that Darlene and David are no longer together. We had hoped that, after several relationship ups and downs during the original run, the couple had made it happily out the other side with their four-person family unit in tact, but it looks like that wasn't to be. We don't know just yet what precisely happened to them, but it's possible those answers will come in the one episode that David is scheduled to appear in. Roseanne showrunner Bruce Helford has already explained how David will reunite with Darlene, so be sure to check out what he had to say.
Now, here's the more heavy-hearted reveal of the premiere. By the time the revival starts, Becky's husband, Mark, is dead. From the way the family briefly talks about it, with Jackie mentioning that she knows Becky has had a hard time since he passed, it sounds like his death is an event that happened in the recent past. Jackie is careful with her words, but Becky doesn't seem overly emotional at the mention of his death, it's just a fact of life for her now. But, the fact that Jackie thought to bring it up at all seems to indicate that the fallout from his death would still be somewhat of a factor into Becky's behavior.
It's really no big surprise that Roseanne chose to have the character of Mark be dead in the new episodes. Glenn Quinn, the actor who played Mark for the original run, died in 2002, and it was thought that the revival would use the death of his character as a good way to honor him.
Another change from the first run of episodes that we were clued in on tonight is the fact that Becky doesn't have any children. The previous series finale had Mark and Becky talk about being expectant parents, and deciding to keep the news quiet until baby Harris, who was premature, was fully out of the woods. Of course, as with many things from that finale, we were unsure if this detail it would make it over to the revival because the whole final season was shown to be a figment of Roseanne's imagination, which she was using to deal with Dan's death after his heart attack.
There are sure to be more surprises ahead for fans who are tuning in to Roseanne, and you can watch the show when it airs Tuesdays at 8 p.m. EST on ABC. For more on what you can catch on the small screen in the coming weeks bookmark our midseason premiere guide, Netflix premiere guide, superhero show premiere guide and Amazon premiere guide.
Yennefer's apprentice, Gilmore Girl; will Vulcan nerve pinch pretty much anyone if prompted with cheese...Yes, even Jamie Fraser.
Your Daily Blend of Entertainment News
Thank you for signing up to CinemaBlend. You will receive a verification email shortly.
There was a problem. Please refresh the page and try again.