The Heartwarming Way Amy Found Her Wedding Dress On The Big Bang Theory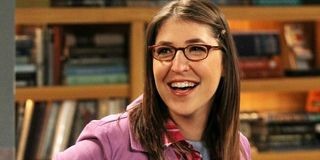 Warning: Spoilers ahead for the most recent episode of The Big Bang Theory. Feel free to come back once you've caught up!
Well, the nerd wedding of the century is almost upon us on The Big Bang Theory and the latest episode saw Amy finding the perfect dress for her marriage to Sheldon in the most heartwarming way. But, it almost didn't turn out so well for the bride-to-be. Here's what happened.
At the beginning of the episode, it was finally time for Amy to find the magical princess dress that would take her through her wedding to Sheldon before long, and, in preparation, she and Penny were discussing the types of looks she might want. Amy was clearly excited for the prospect of going shopping, but she also had some fears that she wouldn't be able to find anything that would really look good on her. Which, honestly, is what happens when you only wear blouses under cardigans that are buttoned all the way up, skirts to your knee and sensible shoes.
When Amy, Penny and Bernadette actually head to a bridal boutique, though, Amy is surprised to find that she loves the very first dress she's tried on. Bernadette and Penny love it, too, and when Amy wonders aloud if this could really be the dress, Penny begins to remark that buying the first wedding dress you try on would be like marrying the first guy you slept with, but quickly course corrects after Amy gives her the stink eye. Point taken, Amy tries on another gown, and this one is a stunner, as well.
After a few minutes, Amy announces from the dressing room that she thinks she's found "the one," but when she steps out from behind the curtain, Penny, Bernadette and the audience are treated to, well...see for yourself:
Yeah, that dress is...an original, to be sure. And, as you can see from Amy's expression and proud modeling in this particular gown, she's quite taken with this dress. Bernadette and Penny agree that it's beautiful and perfect, so Amy buys the dress and is a happy woman. Later, when her friends are alone, though, they admit to each other that they hate the dress, with Bernadette noting that "that dress should be set on fire." Penny wants to tell Amy the truth, because she thinks that someone will say something about it to her and it should be them now instead of someone later at the actual wedding. Bernadette originally disagrees, but eventually caves and goes with Penny to tell Amy the truth. As soon as Penny brings up the topic with Amy, though, and she moans, "What's wrong with my dress?" Penny tells the truth while Bernadette sticks to her lie.
After Penny and Bernadette have an argument about how Bernadette threw her under the bus, Penny starts to feel bad about telling the truth and goes back to Amy to apologize, saying that it's her day and all that's important is that she feels beautiful, telling her that she can still wear the dress. Amy says that now that she knows Penny hates it, it's all she'll be able to think about since she's the coolest, most fashionable person she knows, and the dress is ruined for her.
And here's where the ultimate in heartwarming, lovey-dovey stuff comes in. Amy decided to put the dress on one more time before returning it, and as she's looking at herself in the mirror, Sheldon comes home and sees her in it. The first thing Sheldon says is that she looks beautiful, which, of course, delights Amy to no end. When she tells him that she was actually planning to return it, he says, "Why would you return it? You look like a pile of swans." which has to be the most Sheldon compliment ever. Amy then decides to keep the dress, with any cares as to who might not like it no longer on her radar.
Sheldon so rarely gives enthusiastic compliments, even to Amy, that this is a true sign of change for him and their relationship. You can keep up with all of the wedding prep craziness when The Big Bang Theory (opens in new tab) airs at 8 p.m. EST on CBS. Of course, this won't be the only wedding that The Big Bang Theory has seen. Head over to the next page if you'd like to take a trip down the show's nerdy wedded bliss lane!
Fans will remember that Howard and Bernadette were the first couple to get married all the way back at the end of Season 5, with the gang rushing to put on a rooftop wedding so that they could be hitched before Howard went into space:
Leonard and Penny finally said their (first set of) I-Dos in the Season 9 premiere, when they eloped to Las Vegas, and found a chapel that would stream the ceremony live so their friends back home could watch:
Of course, since their families weren't around for that wedding, they did it all over again in the Season 10 opener, with many of their nutty relatives in tow:
Penny might be (basically) happily married to Leonard now, but remember that time she realized she had sorta, kinda accidentally married Zack in Las Vegas?
Here's hoping all of The Big Bang Theory marriages stick! To see what else is coming to TV in the near future, check out our midseason premiere guide and summer premiere guide. To see when finales for all your favorites will air, bookmark our 2017-2018 season finale guide.
Your Daily Blend of Entertainment News
Yennefer's apprentice, Gilmore Girl; will Vulcan nerve pinch pretty much anyone if prompted with cheese...Yes, even Jamie Fraser.