Supergirl Recast A Major New Character For Season 4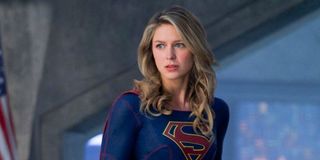 Supergirl will be adding a number of the new characters to the Arrow-verse in the 2018-2019 TV season, and news broke early in August that a venerable Star Trek actor would tackle an important role for the upcoming fourth season. Well, that actor has departed the series, but he'll be replaced by another person with major sci-fi cred to his name: Bruce Boxleitner of Babylon 5 fame. Here's what's happening.
Babylon 5 alum Bruce Boxleitner has signed on to play a role originally slated for Brent Spiner, who is undoubtedly best known for his work as Data in Star Trek: The Next Generation and a number of Star Trek films. Spiner had to leave Supergirl due to a family issue that conflicted with production dates. Rather than write the character out until a time when Spiner could jump in and bring the role to life, Supergirl decided to recast the role, which points toward this character becoming quite important over the course of Season 4.
Bruce Boxleitner will play Vice President Baker for Supergirl Season 4. The original description of the character reveals that Baker is considered an unlikely leader despite holding one of the most significant offices in the country. Season 4 events will require him to rise to the occasion and serve his country. Politically intelligent and savvy, he's simply not who anybody would have expected to assume a leadership role.
The character description does not seem to have changed or been updated since Brent Spiner was first announced as tackling the role, so we can probably assume that the character will be the same, just handled by a different actor. At this point, I'm mostly curious about what will happen on Earth-38 that requires the Vice President -- deemed an unlikely leader -- to step up into a leadership position.
It stands to reason that something has happened to President Olivia Marsdin (Lynda Carter) that VP Baker will suddenly have a more prominent role in governing. If we want to think about the show going in some dark directions, it's possible that Agent Liberty or people like him had Marsdin assassinated. Given that this is Supergirl rather than Arrow where politicians and district attorneys are killed off on a regular basis, however, my money is on Marsdin being outed as an alien.
Considering what we know about Agent Liberty so far, the reveal that the President of the United States has been a shape-shifted alien all along would add fuel to his hateful fire of wanting all aliens kicked off of Earth. I'd love to see Lynda Carter back so that Supergirl can address what is or is not going on with President Marsdin, but I'll settle for Bruce Boxleitner for the time being once Supergirl is back. The role will be recurring, so we should see a decent amount of him.
In addition to his role as Captain John Sheridan on Babylon 5, Bruce Boxleitner is known for contributing to Tron and Tron: Legacy as Tron. Unfortunately for Tron fans, Boxleitner has some discouraging words about another potential film. He also appeared in Hallmark Channel's Cedar Cove series and a couple episodes of NCIS in recent years. It should be fun to see how his work on Supergirl compares to his previous projects.
For when Supergirl and the other Arrow-verse series return to the airwaves in the fall (and set the stage for a new Bat- character), swing by our fall TV premiere guide. You can get a look at Bruce Boxleitner in action on the full Babylon 5 series, currently streaming on Amazon along with plenty of other options.
Resident of One Chicago, Bachelor Nation, and Cleveland. Has opinions about crossovers, Star Wars, and superheroes. Will not time travel.
Your Daily Blend of Entertainment News
Thank you for signing up to CinemaBlend. You will receive a verification email shortly.
There was a problem. Please refresh the page and try again.