Mariah Carey Jams Out To All I Want For Christmas At Home, Because Of Course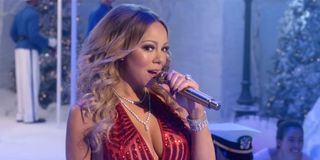 When the snow starts to fall and Christmas lights start going up, there's one song that truly encapsulates the joy and cheer of the season. Mariah Carey's "All I Want For Christmas Is You" is perhaps the most widely beloved modern Christmas song, and even the diva herself can't resist blasting it at home while she's cooking her dinner. Check out the adorable injection of Christmas cheer below.
Mariah Carey shared an adorable mommy moment on Instagram on Thursday, showing herself and her 5-year-old son Moroccan dancing around and belting out the chorus of "All I Want For Christmas Is You." Appropriately clad in a flowing red silk robe, Carey took a break from cooking her "favorite sauce" on the stove to dance and lip sync with her son when her hit song started playing. It's clear that young Moroccan is well-versed in the Christmas classic, as he perfectly lip syncs his mom's high notes and flourishes while dancing around the kitchen in his onesie pajamas. All the while, proud momma Carey is laughing and singing along.
Even the most stubborn Grinch or Scrooge has to admit that charming impromptu performance filled them with some holiday spirit. It was also an adorable bonding moment for Mariah Carey and her son Moroccan. Though Carey usually like to keep her kids out of the public eye, she previously cuddled up with Moroccan for the camera at her Halloween party in October, both matching in red costumes --- she was a devil and he was Mario. She was also hanging out with Moroccan's twin sister Monroe and the children's father Nick Cannon at the event. Though Carey and Cannon's divorce was finalized this year after about two years of separation, the former couple remain close friends and continue to coparent their twins.
Mariah Carey and Nick Cannon named their twin children after a Hollywood icon and a room in Carey's apartment. Monroe was named in honor of Marilyn Monroe, one of Carey's icons, and Moroccan was named after the Moroccan-style room in Carey's New York apartment in which Cannon had proposed to her.
Clearly, the family continues to radiate love despite the divorce, but Mariah Carey is dealing with another recent romantic split. The singer revealed that she and her former fiancé, billionaire businessman James Packer, had ended their engagement in October after spending all of 2016 as an engaged couple. But Carey didn't let the heartache keep her down --- she's currently cozying up with her backup dancer Bryan Tanaka, PEOPLE reports.
But the most important man in Mariah Carey's life is little Moroccan, and with those adorable dance moved, we can see why!
Your Daily Blend of Entertainment News