How Long Is The Blacklist Going To Keep Red In Prison?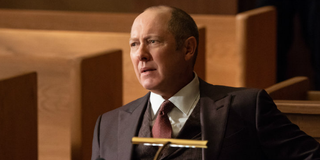 (Image credit: Virginia Sherwood/NBC)
The Blacklist made a surprising move during the fifth episode of Season 6. In "Alter Ego," it was decided that the case against Red would continue, and accordingly, so would his time jail. What started as a seemingly short story is shaping up to be a longer-term one, which begs the question: how long is The Blacklist going to keep Red in prison?
The judge's verdict put Red closer to the death penalty, which in turn, potentially put Liz closer to it too. It also means that Red's potential freedom date has been put off further. Theoretically, Red may not be coming out of jail any time soon. The Blacklist is making this longtime fan wonder if Red will ever get out.
The Blacklist has always toyed with the angle that Red is sort of the Hannibal Lecter to Liz's Clarice Starling minus the psychopathic serial murder and cannibalism. There is another crucial aspect to those characters' dynamic that The Blacklist has tended to lack.
For the most part, Red has been free due to his immunity deal, meaning he and Liz could gallivant around the world for whatever case of the week presented itself. If The Blacklist wants to play out Starling and Hannibal's dynamic from early in Silence of the Lambs, Red may be in prison for a bit longer than initially anticipated.
That said, there are a lot of differences between Starling, Hannibal, and their storyline, including those mentioned above. Therefore, Silence of the Lambs may be no indication of where The Blacklist is headed with its storyline.
Given how outrageously entertaining Red's legal proceedings have been, this viewer is in no hurry for the story to end. However, the idea of Red being behind bars longterm is a scary thought. The backdrop of him dealing with the legal system and prison will be familiar to entertainment fans, and it has made for compelling television so far.
There is a familiarity to the circumstances Red is facing, which his previous storylines have not featured. Fans have a better idea of what Red needs to do to survive this season, whereas his past stories have involved more of an x-factor. Six seasons in and The Blacklist is still finding ways to reinvent itself in daring fashion. Kudos!
The way Season 6 has trended so far, the possibility that Red's verdict could be rendered at season's end seems feasible. Let's face it: there is no way Red is getting out on bond before then. That brings us to that foreboding verdict.
At the beginning of Season 6, I was confident he would have been found "not guilty." However, I also thought the charges would have been dropped by now. Accordingly, the season has been tough to predict, and his verdict is shrouded in doubt. It will be interesting to see if he goes for a jury or bench trial. Red has a way of moving people, so a jury seems like the better candidate on the surface.
That is supposing Red wants to risk someone on the jury secretly harboring a grudge against him. A jury trial could be a gamble. He is persuasive, but staking his life on twelve people may not be the best bet.
If Red is found guilty, there is only one way for him to go free again. Outside of winning an appeal, he would have to break out of prison. The Blacklist could be gearing up for that. Red could be found guilty, make his escape, and disappear into the wind.
If Red is found not guilty, then he walks free. The drama in that verdict is, of course, the lead-up to it. He could remain in jail throughout the season, as The Blacklist makes its way to that point. Whatever the result, having Red in prison beyond that seems implausible.
While Red has made the transition to prison life rather well, he enjoys his freedom. If a verdict comes back that is not in his favor, it would be out of character for him to sit back and do nothing. Remaining behind bars as the appeals process makes its way through the courts is not a Red move.
One ingredient that could set about changing his current course is the reveal of Liz's betrayal. If he learns about it during his trial, it could disrupt his defense. Red is a good compartmentalizer, so he may be able to tuck it away and proceed. However, this should be a soul-shaking revelation for him.
Red could become so distraught by learning it that it ruins his case. That could be why The Blacklist is keeping the truth from Red. So, when the truth comes out, it is at the worst possible time. There is reason to hope that he will get out though.
There is something to be said for exploring all of the stories having Red in prison provides before moving on. The magic of The Blacklist is that there is a lot of story potential, no matter how the folks at the show play it. Few shows can say the same.
Find out how much longer The Blacklist keeps Red in prison when new episodes of Season 6 air Fridays at 9 p.m. ET on NBC. The crime drama is among many series reprising their runs with new seasons throughout the midseason. Stay tuned to CinemaBlend for the latest in TV news.
Your Daily Blend of Entertainment News
Like a contented Hallmark movie character, Britt happily lives in the same city she grew up in. Along with movies and television, she is passionate about competitive figure skating. She has been writing about entertainment for 5 years, and as you may suspect, still finds it as entertaining to do as when she began.