Did Game Of Thrones Foreshadow Jon Snow Will Never Return To The North?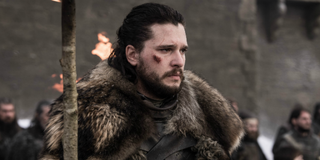 (Image credit: Helen Sloan / HBO)
Spoilers for Game of Thrones Season 8, Episode 4 ("The Last of the Starks") are discussed below.
In the latest episode, Jon Snow gave rousing speeches, both in public and in private. They were not depressing. What happened next was depressing, however, and it is tough to feel safe reading into much of anything Game of Thrones has going on lately. The closer the show gets to its series finale, the more difficult it has become to guess which pieces will come into play.
Episode 4 arguably contained some of Jon Snow's most ominously foreshadowing Game of Thrones scenes so far this season. Remember, this episode was titled "The Last of the Starks." Not the best way to frame the family's status. Looking back at the episode, many of the events and sentiments seemed to hint that Jon would not see his beloved homeland again. One of the first signs was that Jon actually did a few things he seldom does. A sort of last hurrah.
Jon Snow enjoying a night celebrating humanity's victory over certain death was uplifting and uncharacteristic. He rarely does happy. Then came Tormund, who gave an epic speech that (finally) acknowledged many of the things Jon has done through the years, including his rarely-buzzed-about return from the dead. Such a feat is a very big deal in other circles.
That seemed to be a bookend to his time with Tormund. It also cemented Jon's story in the North. Was it a hint that this was the tale that those in the North would hear and tell about Jon Snow before and after he is gone?
While Jon celebrating was uncharacteristic, he did something that was on point. He withstood the pleas and advances of Daenerys. Her prophetic words hinted that was a mistake. After fighting off temptation from Daenerys, he ended up standing by her as his queen. However, he did not agree to promise he would not tell his sisters about his true lineage as Aegon Targaryen.
Daenerys was not happy about that, and things between them seemed to turn dark, leaving one to wonder if Jon is not going to return to the North because he is King of the Seven Kingdoms. Or he is not going to come back because he will die before getting crowned.
In the end, Jon ended up telling Sansa and Arya about his true lineage. Viewers did not get to see either of his sisters' reaction to learning he is their biological cousin. No "you will always be my brother" or anything. That viewers did not get to see what happened seems to hint at off-screen goings-on that we were not privy to.
On a side note, I find it disquieting that Game of Thrones seems to believe that Jon being Lyanna Stark's son somehow makes him less of a Stark. He is still one, just by a different family member than initially thought. That does not change how much of a Stark he is.
Plus, for Arya and Sansa, finding out that Jon is their biological cousin should not alter the fact Jon has been their brother all of their lives. For all intents and purposes, he should still feel like one. This is not information that should change their emotional proximity to him, as Jon and Game of Thrones seem to think it does. Is that notion being stated because it will be what helps Jon avoid the Stark curse?
That brings us back to the foreshadowing surrounding Jon in this episode. He ended up sticking to his vow to help Daenerys claim the Iron Throne right away, despite sound counsel from Sansa that their forces needed time to rest.
Regardless, Jon stood by his queen, but he's the only Stark who did. Sansa ultimately set about putting an end to Dany's claim as the sole living Targaryen, although she didn't do it publicly. Jon gave Sansa that weapon by dropped the Aegon bombshell, which may be what gets him killed.
Then came the goodbyes with Tormund and Sam, his two closest friends. The farewells did not feel like pals saying "see you later." More like "goodbye forever." Add to that Sam and Gilly planning to name their new baby after Jon, if it's a boy, and the show may have been telling fans that this is it.
Sadly, Jon did not share as emotional a farewell with Ghost. Jon's beloved direwolf watched from a distance as he left him at Winterfell. That Jon was making arrangements for Ghost in the long-term did not indicate he expects his return to Winterfell any time soon.
Does Jon think he is going to die? He certainly got his affairs in order. Unfortunately, without petting Ghost goodbye. Maybe Jon is planning a move to King's Landing? The Warden of the North does generally live in the actual North, though.
As Ghost, Sam, and Tormund saw Jon off, it felt like goodbye for, well, good. There was a finality there that Jon's frequent trips away from home have not had. Still, some parts were missing. Why no Stark sibling send-off? If this is it, why did Game of Thrones not at least let Sansa and Jon say goodbye to each other?
Arya is heading off to King's Landing, so him not saying goodbye to her makes sense. Sansa? Bran? Not so much. If that is the last the siblings will see of their brother, then it is disquieting.
Sansa saying the men in her family do not do well when they travel south did not help assuage the unsettling sense that Jon's fate is not great. Her grandfather, uncle, and father never returned. Even Robb died far from home, and he never got as far south as King's Landing. She mentioned this previously, and Jon did end up returning. Perhaps her fear will not be realized.
The only thing giving this viewer hope for Jon's survival is that he did not say goodbye to Arya, Bran, and Sansa. If that was the Stark siblings' last scene together, it lacked the finality, quality, or sense of one. Something you would expect it to have if it were their final goodbye. Then again – Ghost.
Jon may not survive to be the King of the Seven Kingdoms, which would render Sansa's kingmaking efforts meaningless in the long run. After Game of Thrones' latest episode, Jon Snow's fate seems shrouded in a dark cloud. I hope I'm wrong about that forecast.
Find out if Jon Snow returns to the North before Game of Thrones ends. New episodes of the final season air Sundays at 9 p.m. ET on HBO.
Like a contented Hallmark movie character, Britt happily lives in the same city she grew up in. Along with movies and television, she is passionate about competitive figure skating. She has been writing about entertainment for 5 years, and as you may suspect, still finds it as entertaining to do as when she began.
Your Daily Blend of Entertainment News
Thank you for signing up to CinemaBlend. You will receive a verification email shortly.
There was a problem. Please refresh the page and try again.