The Blacklist Season 7: Six Burning Questions We Have About Red And Liz's Future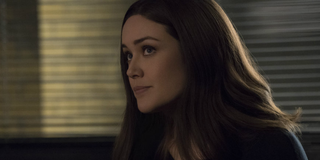 (Image credit: Virginia Sherwood / NBC)
The Blacklist's sixth season came and went with loads of intrigue left in its wake. Viewers got the answer to one incredibly important question: the whereabouts of Liz's mother. Much like the reveal that Red is a Raymond Reddington imposter, the Katarina disclosure opens another can of things to probe.
Katarina is not the only one with a major question mark beside them on The Blacklist. Red and Liz both have one. Liz has brought her daughter, Agnes, back home to be with her. Agnes had been staying with Tom's mother, ever since he was murdered. With Liz feeling secure about Red, she decided to bring Agnes home. Her security is now in doubt.
Meanwhile, Red made a big move. He went to Paris, France, to meet with Liz's long lost mother, Katarina. Red was greeted with a kiss from his beloved. Then she stabbed him with a syringe and drugged him. Red promptly collapsed before a van pulled up and collected him. Katarina did not go with them. She stayed behind, picked up Red's hat, and walked away.
As of the sixth season's cliffhanger, fans will have to wait until Season 7 to learn what is happening with Red, as well as the impact those events will have on Liz. Those are just some of the things that The Blacklist has to resolve. Here are the other questions Season 7 needs to answer.
1. Is Liz's Mom A Villain?
After seeing a more vulnerable Katarina in flashbacks, present-day Katarina made a surprising entrance. She did not seem to be genuinely moved to see Red, and she drugged him. So, there is that. Red reassured Liz that her mom was not a monster in Season 6. Actions can be deceiving.
At first glance, her behavior in the finale seems to hint Red is wrong. However, he and Katarina were being watched by his own admission. She is also in some apparent danger, according to Red. Hence, she could be taking every precaution, even questioning Red's loyalty. Katarina did not make it this far without being a bit cautious.
2. What Has Katarina Been Doing All This Time?
Now that viewers know she is alive, there is a big hole in the timeline between her past and present. Katarina apparently left and went where? She has been in the wind and on the run for her life. What has she been doing to stay a step ahead?
It is tough to imagine her sitting around waiting for the phone to ring with a call from Red. He apparently lost tabs on her at one point and needed The Stranger's help to find her. Why does that guy know something about Katarina that Red does not? What caused her and Red to lose touch? Many questions.
3. Seriously, Who Is Red?
This question was at the forefront of Season 6. Following Red's talk with the mysterious man on the bench, it would seem viewers still do not know. The Blacklist's creator hinted Liz is closer to the truth, which is an indication she has not gotten to the bottom of the Red rabbit hole.
Red may be Ilya Koslov. He may not be. Chances are, he definitely knows who Ilya is, and Ilya is probably not a work of fiction. Or at least, one would hope not. If he is, that not only jeopardizes Dom's believability. It also undermines the legitimacy of flashbacks. Instead of being viewers' foothold to the truth, they could be a smokescreen to it.
4. How Does The Stranger Know Red?
Another season, another mysterious character to contend with. The Season 6 finale introduced viewers to a new character played by actor Brett Cullen. Aptly known as "The Stranger," he and Red had a very fascinating conversation. It hinted at a lot of backstory between the two. Along with being an associate, this guy and Red have known each other since childhood.
The Stranger also knows Red's real identity and about Dom, Katarina's father, including Ilya and the story that Dom told Liz. He also knew where Katarina was when Red did not. Is this guy the real Ilya as some think? Or is he Ilya's brother and therefore Red's? Whoever either of them is, could they be brothers? Season 7, please hold the answers.
5. What Is Katarina and Red's Relationship Status?
When Katarina and Red met in the season finale, The Blacklist gave viewers a significant clue about their relationship status. Whoever Red was before, things were/are not platonic between the pair. Or at least, you can rule out the Red is Katarina's brother theory. The kiss was seemingly for an audience. Meaning it is unclear if there is something currently going on between them.
Red clearly wants there to be. He appeared to close his eyes during their kiss. Red's feelings towards Katarina have always tipped towards the romantic. He recalls her with the great fondness of a former/current flame. Ilya was shown in the flashbacks pining for her. That coincides with Red's interest.
6. Other Questions:
What is Red sick with? That remains a burning question with no answer. Red was injecting himself throughout Season 7, which could be a sign there is something at play with him health-wise. Could whatever Katarina gave him cause complications with another underlying condition?
Will there be a new member of the Task Force? In a significant loss for the show and the ensemble, Samar exited The Blacklist in Season 6. She left a bereft Aram behind and an unfillable gap in the Task Force.
The Blacklist's creator, Jon Bokenkamp, did address whether they could bring someone new on in Season 7. While saying they miss Samar's portrayer, Mozhan Marnò, Bokenkamp told Variety:
If The Blacklist brings someone new on, will they also be a love interest for Aram? He is starting to heal. However, in my book, Samar and Aram are probably endgame. Introducing another potential love interest for him might be unlikely to last. Viewers will just have to wait and see.
With the big bads of Season 6 dealt with, it is time for another mythos-centered season of the crime drama. The fantastic news is that fans of The Blacklist only have to wait things out through the summer. That is a much shorter wait than they endured last time. Season 7 promises to be another wild ride, especially with Katarina on board.
Can you say the mother of all seasons? After so many years of The Blacklist leaving fans to wonder about her, they are about to get a first-hand glimpse at who she really is. It will be interesting to see how her present-day self, gels with the flashbacks' version, among other things.
The Blacklist will return for Season 7, this fall on NBC!
Your Daily Blend of Entertainment News
Like a contented Hallmark movie character, Britt happily lives in the same city she grew up in. Along with movies and television, she is passionate about competitive figure skating. She has been writing about entertainment for 5 years, and as you may suspect, still finds it as entertaining to do as when she began.