The Blacklist: 4 Questions That Need Answering Before Season 6 Ends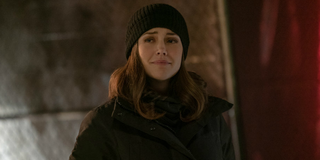 (Image credit: Scott Gries / NBC)
SPOILERS ahead from The Blacklist Season 6, up to and including the May 10 episode.
What a season! Red was almost executed. The Task Force lost Samar. Liz thinks she knows Red's true identity. In short, The Blacklist has offered no shortage of surprises for fans to contemplate. As viewers head into the Season 6 finale, there is also no shortage to the questions that need answering.
Breadcrumbs have gotten laid out throughout the season. Some without any verbal recognition, or very little. If you are hoping that The Blacklist's finale will leave off with fewer questions to navigate before it ends, you are not alone. I do too. These are the four I want to get answered before the new season begins.
#1: What Is Red Sick With?
This mystery has come in and out of focus throughout The Blacklist's sixth season. It first came up when Red wanted "The Pharmacist" found. The implication was that Red wanted him to work on a cure for someone. What this cure would treat has also remained a mystery.
Hopefully, the nature of the ailment will not be the only thing that is revealed. Who the cure is for has also been a mystery. Red seems to be the patient in question. He injected himself with something at one point in the season. While at the start of the season, he told Liz he wanted to pursue a healthier lifestyle.
Are these things connected? It is possible that Red wanted to get healthy because he is enduring some sort of health scare. The issue with that theory is that Red got an all-clear on his physical before his execution. If he is the sick one, it should have gotten caught, right? Season 6's final episode could shine the light necessary to know for sure.
#2: Where Is Liz's Mother?
This question has been at the forefront of not just Season 6. The whereabouts of Liz's mother, Katarina Rostova, has been an ongoing mystery throughout The Blacklist's entire run. Earlier in the series, Red seemed to put the issue to bed by claiming that Katarina had died. He said she voluntarily walked into the ocean and drowned.
For those who always doubted her death, Season 6 finally confirmed that Katarina did not die that day. She walked out of the ocean alive and eventually contacted her best friend, Ilya Koslov. She needed his help to make her and her parents disappear.
Katarina's father indicated she could be dead, having not reached out to him or her mother. It seemed to be another dead end. Ressler has indicated that he still believes that Katarina is alive, and so does Liz. She even worried about her daughter's safety with her mom on the loose. Red put her mind at ease.
Does he know where Katarina is? Is keeping her location a secret what drove him to also keep his identity a secret? Is she the one he is trying to cure? Or does he have no idea where Katarina is? Stay tuned.
#3: What Is Anna McMahon's Problem With Red?
Anna McMahon has been the big bad of The Blacklist's sixth season. She wanted Red to be executed, seemingly to protect her conspiracy against the United States. Despite her efforts, Red was given a stay and a new immunity deal. Anna has been determined to break it.
She is now overseeing the Task Force, and they and Red have been hard at work trying to bring her down. They have yet to accomplish that. Time is now ticking for Cooper, Aram, and Ressler. It is also ticking on what exactly is motivating Anna's grudge against Red.
Her animus towards him seems to extend beyond the realm of conflicting interests. It feels personal. As in very personal. In the promo for the Season 6 finale, she has Red at gunpoint and declares that he will not escape death again. She is probably referencing Red's execution. Or is it something longer-running?
Has she wanted Red dead for more than the past few months? A substantial feud in a short amount of time hints at more of a history between the two.
#4: Is Ilya Really Red?
This is the big one. After waiting most of the season, The Blacklist seemed to give viewers the long-awaited answer to Red's true identity. Yes, this mystery only kicked off with the Season 5 finale. However, it has dominated quite a bit of thought and viewer speculation.
If what Liz's grandfather said is the definitive answer, then Red is originally Ilya Koslov -- her mother's best friend and the one behind the idea to take over Raymond Reddington's identity. All of the pieces are there to believe it, with a few missing ones also out of reach.
Red has yet to verbally confirm he is Ilya, which is not entirely unexpected. Nor does it not make him Ilya. He has trouble with the truth, as mentioned above. Ilya knew that Katarina was not dead, and it turns out, so does Red.
As Ressler previously pointed out, there are a lot of unanswered questions even if Red is Ilya. Why he went to such remarkable lengths to keep his identity a secret is among them. Hopefully, The Blacklist will resolve this mystery, so fans can look forward to other related revelations.
Will any of these questions be answered? I hope so. I think #3 has a strong chance of being resolved. Anna McMahon's reign should be about to end. It is tough to imagine her surviving the Season 6 finale, unless unexpected grounds emerge to keep her alive. She should at least be in prison.
Call me overly optimistic, but I think Red's true identity could definitively be resolved. The Blacklist's creator, Jon Bokenkamp, did say that he did not foresee the show ending without the answers to who Red is. Here is hoping they will come. It has only been a season with the mystery looming overhead, but it is time.
Questions surrounding Red's real connection to Liz date back to the pilot. Making some real headway would be nice. Once confirmed, there is more for The Blacklist to dig into. The logline for the Season 6 finale says that Red will "meet in secret with a man who holds information about his past." Could viewers also learn that info? Maybe.
On a side note, I also wonder if Katarina Rostova will finally resurface and reunite with Liz in the finale. Season 6 seems to have been building towards such a reunion. It may be worth meditating on.
Stay tuned to find out if any of these questions get answered when The Blacklist Season 6 ends. The season finale will air Friday, May 17 at 8 p.m. ET on NBC.
Your Daily Blend of Entertainment News
Like a contented Hallmark movie character, Britt happily lives in the same city she grew up in. Along with movies and television, she is passionate about competitive figure skating. She has been writing about entertainment for 5 years, and as you may suspect, still finds it as entertaining to do as when she began.