7 Exciting TV Shows Coming To Netflix In June 2019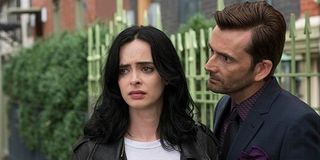 June is a time for swimming pools, family vacations, and cookouts. It's a great time for Americans to appreciate the outdoors before the dog days arrive. What people don't always talk about, however, is that June is also a great time for Netflix marathons, but the streaming service really seems to step up its game in the summer months so that viewers can beat the heat by staying engaged and entertained.
For those in need of a distraction, or perhaps an excuse to stay indoors and out of that hot sun, here's a look at what all is debuting on Netflix in the month of June. We've got returning hits, a saved-from-cancellation drama and a couple of sleeper shows that subscribers shouldn't sleep on.
Black Mirror Season 5 (6/5)
The long-running super freaky anthology sci-fi series is back, and based on the trailers we've seen so far, Season 5 could be as wild as ever. There are only three new episodes in the batch, similar to its U.K. seasons, but the star power includes pop star and former Hannah Montana star Miley Cyrus, MCU superstar Anthony Mackie, DCEU player Yahya Abdul-Mateen II, and Sherlock's Andrew Scott.
This round of episodes features three standalone tales that focus on a cab driver having a breakdown, two old college friends forced to make life-changing decisions, and a girl who realizes the her pop star life isn't as glamorous as it seems. Expect all sorts of mayhem, potentially award-winning writing, and the empty feeling that can make one feel like the future couldn't be more oppressive.
The Chef Show (6/7)
Jon Favreau may be making Star Wars fanatics hyped about Disney+'s The Mandalorian, but that doesn't mean the acclaimed director is on lockdown and unable to bring his wit and wiles to Netflix. The Chef star and director is once again tapping into his passion for cooking with The Chef Show. Along with chef Roy Choi, Favreau will deliver a series that explores the nature of preparing a good meal for friends, family, and some of the big names in the food world.
Did we mention Jon Favreau will have a meal with The Avengers? Because yeah, he's going to have a meal with The Avengers on this show. He's also headed to Texas for some good old fashioned barbeque, and he'll hang out with legendary food critic Jonathan Gold in Los Angeles. Expect good stories, great food, and major hunger pains while watching this upcoming Netflix original.
Designated Survivor Season 3 (6/7)
After what feels like a long wait, Netflix has brought back the previously cancelled ABC drama Designated Survivor for what should be a big season. This time around, Kiefer Sutherland's Tom Kirkman is tasked with something he has yet to do in his presidency, go on the campaign trail. Tom's set to campaign for the first election since the disaster that put him in charge, but is he up for the challenge?
It's a legitimate question, as Tom will hit the trail with many calling into question his ability to lead the country. Those questions can get nasty, and may cause the President to pop off if an opposing candidate lightly infers something negative about his wife, or some other touchy subject. It's sure to be an interesting season to say the least, and Netflix doesn't have to rely on nightly ratings to judge Designated Survivor's worth the way ABC did.
Awake: The Million Dollar Game (6/14)
In what sounds like the wildest Netflix game show to date, at least since Flinch, Awake: The Million Dollar Game is offering its contestants a very unique opportunity. The task? Stay up for 24 hours while attempting a variety of tasks, some of which are mundane, while others appear to be slightly strange.
Whatever the task at hand may be, sleep-deprived people can make for fairly entertaining subjects as they go about their day. It will be interesting to see how the show goes about keeping these contestants awake for the allotted time, and then even more interesting to see who, if anyone, will be able to stay awake and complete objectives well enough to gain that million-dollar prize. If someone does, my money is on them being a new parent.
Jessica Jones Season 3 (6/15)
The upcoming season of Jessica Jones will not only be the next chapter in the hero's life, but also the end of an era of Marvel's Netflix universe. Jessica's fate beyond Season 3 is unknown at the present, but with a couple of interested parties willing to possibly revive the Marvel Netflix shows down the road, one would think finding a new home for Season 4 isn't completely off the table just yet.
So, what's on tap for Season 3? Jessica is up against a "highly intelligent psychopath" and she realizes she'll need Trish back at her side if she wishes to defeat this new foe. That's easier said than done, of course, considering how Season 2 ended, although the Season 3 synopsis has teased they'll both engage on a journey that's poised to change both of their lives forever. With all that and likely more surprises on the way, it's a damn shame this show may be done for good!
Dark- Season 2 (6/21)
A year and a half after the conclusion of its stellar first season, Netflix's acclaimed German drama Dark is coming back for Season 2. This is a particularly great addition late in the month, especially for those who still have yet to check it out in the first place. There's plenty of time to catch up ahead of the new season, even if a subscriber watches at a more leisurely pace.
Not that they'll want to, as Dark is one of Netflix's best foreign originals. Season 2 will pick up as the date for the "last cycle" approaches, and Winden's own learn that they have a significant role to play in what happens to the rest of the world. Sounds like some pretty high stakes, and a season that Netflix subscribers won't want to miss.
Neon Genesis: Evangelion (6/21)
As a side note, this isn't exactly a Netflix original, but it is still a pretty big deal. Neon Genesis: Evangelion is one of the more celebrated anime out there, and its arrival on Netflix will surely start many people's journey to find out exactly why it's so popular. While it may be one of the older giant mech anime out there, its influence on the world of anime should be enough to draw in audiences around the globe.
With that being said, Neon Genesis: Evangelion also shouldn't be discounted by the mainstream because of its anime status. '90s anime is different than the current state of the Japanese genre, and there's some real emotion and big themes in NG:E that make it much more than just a show about giant robots. Give it a chance, get hooked, then dive down the rabbit hole to find more anime that Netflix has to offer.
June should be a solid month for Netflix, but for those who are iffy on whether or not everything on this list is for them, fear not. Last month's list of great shows on Netflix is still around to look at, even if those entries aren't quite as new as the ones above. Check it out, and be sure to stick with CinemaBlend for more news on streaming, movies, and television.
Your Daily Blend of Entertainment News
Mick likes good television, but also reality television. He grew up on Star Wars, DC, Marvel, and pro wrestling and loves to discuss and dissect most of it. He's been writing online for over a decade and never dreamed he'd be in the position he is today.