5 TV Shows I'm Trying To Get My Dad To Watch After Game Of Thrones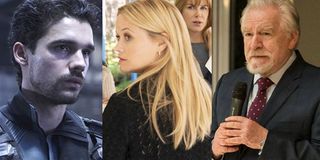 My dad recently asked for some TV recommendations, now that Game of Thrones is over. My dad, my stepmom, and I were all hooked on GoT and had similar complaints about the final season. That's not to say we have similar tastes overall, but my dad wanted a new show to get hooked on. With GoT as a base, I started suggesting some dramas.
My very first response was the first show below, followed by the second, and then the non-drama third. Things derailed a bit from there, thanks to his issues with Netflix, but I also thought of a few more options in case the others don't pan out.
So, in honor of Father's Day weekend, here's the list of shows I'm trying to get my dad to watch -- in between his trips here to try and fix things around the house.
The Expanse, Amazon
My immediate response when asked for a Game of Thrones follow-up was The Expanse. That's partly because I always recommend The Expanse to anyone who will listen. It does actually fit well as a post-Game of Thrones series, though.
The series has even been compared to "Game of Thrones in space." The book series it's based on was co-written by GoT author George R.R. Martin's own former assistant, Ty Franck. GRRM himself called the first book, "Leviathan Wakes," a kickass space opera. And Steven Strait's lead character James Holden definitely has a Jon Snow thing going on. I'm currently caught up on the first three seasons, reading the first book, and anxiously awaiting The Expanse Season 4 when it comes to Amazon.
I might've stopped my recommendations here, because it will take a while to get through The Expanse's three seasons so far, but my dad and stepmom expressed some concerns about the sci-fi/space angle. They're not into sci-fi with monsters or various creatures. I assured them The Expanse isn't that kind of show, and they seemed willing to give The Expanse a try. But if the sci-fi genre just isn't their thing, I came up with backup suggestions.
Big Little Lies, HBO
My dad and stepmom live in Southern California, and this Monterey, California-set drama seems like something they'd both like. My dad is a pretty typical meat and potatoes kind of guy -- loves sports, tends to lean more on the conservative side -- but he's not the type who would see a TV show following several women as the main characters and think it's not for him. Plus, I think the slow-burn murder mystery of Big Little Lies Season 1 would be a great hook.
Once they finish the seven episodes of Big Little Lies Season 1, they can head right into the new batch of Season 2 episodes that just premiered on HBO last week. This is actually the series I think they're going to start with, so if my dad doesn't like it, I think that'll be the end of all future recommendations from me.
The Santa Clarita Diet, Netflix
Since my dad is in SoCal, I thought he'd get a kick out of The Santa Clarita Diet. It's not a drama, but I think he and my stepmom would enjoy the addictive horror comedy following Drew Barrymore and Timothy Olyphant as two realtors who try to stay their usual sunny selves after she mysteriously transforms into a (functional) zombie. Netflix recommended this one to me enough times that I finally went ahead and tried it. I didn't think I'd care for it, but I loved the first three seasons so much, I joined the angry mob to blast Netflix for cancelling it before Season 4.
But this recommendation died a quick death when I ask my dad if he'd seen The Santa Clarita Diet on Netflix and he said "never" to Netflix. Apparently he had a free 30-day trial for Netflix and when he wanted to cancel the automatic renewal, they made it difficult. So he said he's holding a grudge. There went every Netflix recommendation, including Dead to Me, which I just started myself. I was even thinking of building up to a few Black Mirror episode suggestions. Out the window!
Succession, HBO
Since my dad just watched Game of Thrones, and said he'd try Big Little Lies, I know he has HBO. I considered recommending Westworld, but I don't think it's fair to ask anyone to sit through Westworld Season 2. Succession definitely has the power moves of GoT, with Brian Cox's Logan Roy as the king his son Kendall Roy (Jeremy Strong) repeatedly tries to dethrone. Succession also has witty one-liners galore, usually from Kieran Culkin's Roman Roy, who could be considered the show's own Tyrion Lannister.
Most of the Succession characters are pretty unlikable, I'll be honest, but don't forget about Greg Hirsch (Nicholas Braun). He's like a wide-eyed Sansa Stark dropped into this viper pit, but -- like Sansa -- he slowly learns the ropes across Season 1 and makes some sly moves of his own. I think he may end up ruling this family someday. I can't wait to see how things turn out -- especially for the love/hate bromance of Greg and Tom (Matthew Macfadyen) -- in Succession Season 2, which premieres August 11.
I'm hoping my dad naturally segues from Big Little Lies to Succession, mostly so I can have someone to talk to about the show. I don't know anyone -- beyond a small Twitter following -- who watches Succession, and I'm worried that means it won't last beyond Season 2.
Castle Rock, Hulu
I currently live in Southern Maine, and I've always had an affinity for Stephen King books, movies, and TV shows. (Side note: The ill-fated CBS series Under the Dome was even partly filmed in Southport, NC when I lived there. I know you don't really care, but that fact is now yours). My dad asked me for post-Game of Thrones recommendations during a cross country visit, and it seems like this Uncle Stevie series would be a good way of keeping him connected to Maine. Plus, Castle Rock Season 1 is just an intriguing watch, and I imagine it still works for non-Stephen King fans.
I haven't gotten around to suggesting Castle Rock yet, because I don't even know if my dad has Hulu. He did say he has Amazon. I regularly sign up for Hulu and then cancel it after I'm done watching whatever I want to watch. (Sorry!) It used to be The Handmaid's Tale, and then I got hooked on the amazing Harlots, then Castle Rock Season 1. I will sign on again when Castle Rock Season 2 arrives. The cast looks amazing for the new season, but we don't know when it will premiere yet.
There are so many potential options. I considered adding NBC's Manifest to the list, since it has some Lost vibes, but I'm worried the show will get canceled on a major cliffhanger and I don't want anyone else to have to suffer that with me. I could see if he'd want to dive in to AMC's Breaking Bad and then the Cinnabon wonders of Better Call Saul, but for some reason I got it in my mind that he wouldn't be into them. I should at least ask.
He could possibly take on FX's Fargo, or head over to History for Vikings, or Paramount for Kevin Costner's Yellowstone. He's not a big superhero guy, so I'm not considering any of those Marvel/DC shows. I had considered getting him an Avengers-based Father's Day gift, but he showed no interest in the Marvel movies (so I went with Game of Thrones).
All tastes are different, but it's possible your dad will like some of these options as well. At least suggest he watch The Expanse, because that show deserves all the viewers.
Your Daily Blend of Entertainment News
Gina grew up in Massachusetts and California in her own version of The Parent Trap. She went to three different middle schools, four high schools, and three universities -- including half a year in Perth, Western Australia. She currently lives in a small town in Maine, the kind Stephen King regularly sets terrible things in, so this may be the last you hear from her.