8 Shows That Kevin Costner Should Be On Beyond Yellowstone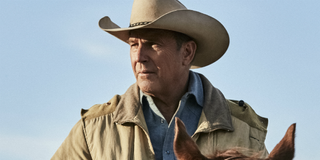 Kevin Costner may be having trouble adjusting to television, but his perseverance has paid off. The film superstar's transition to television on Paramount Network's Yellowstone has been something special to behold. He is turning in some of the best work of his career on the modern-set Western drama, in my opinion.
As John Dutton, Kevin Costner portrays the patriarch of a ranching dynasty. The cable series to beat in the ratings has two seasons and a third one on the way. Yellowstone is not going anywhere any time soon. If there is one thing his work on the drama has proven, it is that Costner should do more television in the future.
These are eight television shows that Kevin Costner should be on beyond Yellowstone. Let's start with one of the shows that should be your next TV obsession. If it is not already.
1: You
Kevin Costner starring on a future season of the Netflix thriller would be an intriguing step for the actor. The question is, who would he play? Costner showed he can do a great job playing a psychopathic serial killer leading a double life in the 2007 film Mr. Brooks.
My thought is that he could play the dad of one of Joe's next obsessions on You. The thing is Kevin Costner's character, like Joe, could also be leading a secret life as a psycho. Because it takes one to know one, Costner's character would figure out that Joe is a fellow psycho. Setting off a cat-and-mouse game between the two.
2: The Dark Tower
Of the genres that Kevin Costner is most associated with, Westerns are arguably at the top of the list. That is where Amazon's upcoming Dark Tower series comes into play. Picking up on those Western vibes with a sci-fi twist. Season 1 is actively in the works.
The Dark Tower recently added Michael Rooker and a fan favorite from Game of Thrones. Why not Kevin Costner too? It would be neat for him to do a show within his wheelhouse, yet outside of it enough to shake things up thanks to its science-fiction leanings. Not sure who he would play. However, a heroic role would work.
3: Untitled Game of Thrones Prequel
Kevin Costner has shown an aptitude for action-adventure throughout his filmography. I, for one, would like to see him tackle the genre in one of television's most high-profile franchises. Either in the Game of Thrones prequel already filming its pilot or one of the other ones still moving forward.
Ideally, I would love to see him play one of House Stark's ancient members. The family is a done deal on the currently filming prequel. I could also see him pulling a Sean Bean and only doing a single season. Hence, a shocking death. Of course, there is the issue of repetition in that regard. Continuing.
4: Jack Ryan
For those that missed it, Kevin Costner starred in the last Jack Ryan movie before the character transitioned to television. Costner played the CIA official that recruited Chris Pine's iteration in Jack Ryan: Shadow Recruit. Given his history with the franchise, it would be neat if Costner did an arc on the Amazon series.
It would be one of those winks to the audience. Especially those who have watched the last movie and would catch the reference. Jack Ryan is set to be around for at least three seasons. So, there is plenty of time to make a Kevin Costner appearance happen!
5: Fuller House
Time for a bit of comic relief in the midst of all of this intense drama. When you think about Kevin Costner, you do tend to think of his serious roles. However, he has shown off his lighter side in 2005's Rumor Has It, among others. What better show than Fuller House to explore his comic timing?
The Netflix series is coming to an end. However, there is still one season left of the spinoff. What better way to send off the show than with a guest appearance by Kevin Costner? I would love to see him play the former rival of Danny, Jesse, Joey, or all three of them.
6: Titans
Kevin Costner already has ties to the DC universe thanks to his portrayal of Superman's dad, Jonathan Kent, in Man of Steel. How cool would it be for him to show up on Titans in a new role? There is no shortage of potential plots for him to play in. Batman is on his way in the form of a Game of Thrones favorite.
Plus, Superboy is getting introduced in Season 2. Kevin Costner could play a character involved in either of those storylines. Maybe, in a huge twist, he could play someone almost entirely unexpected. Lex Luthor? There are signs he could be on his way and it would be a departure for Costner.
7: Grey's Anatomy
Kevin Costner proved that he knows how to play a health crisis during Yellowstone's Season 2 premiere. That is always useful on Grey's Anatomy. He also knows how to handle the portrayal of complicated drama. See, John's major decision this season. I could see him doing a brief arc on Grey's as someone connected to one of the central characters.
Grey's Anatomy has cast big names before, and it would be neat to see Kevin Costner take on a network drama. It has to be more than stunt casting, though. The story should leverage viewers' familiarity with his persona to do something significant. Yes, even unexpected.
8: Dancing with the Stars
Tom Bergeron teased that Dancing with the Stars has heard the fans and changes are said to be ahead, including the search for larger stars in the future. Cue Kevin Costner having a fantastic time dancing his heart out on the competition series. A foray into reality television would be a shake-up.
It would be cool for the veteran actor to get a chance to show off his personality on the show. That is something that the reality series is excellent at doing for screen stars. Fans of the actor know he can sing and act. Dancing with the Stars would be a fun next step.
Hopefully, Kevin Costner will continue to expand his television presence in the coming years. Could he end up ever appearing on any of the shows mentioned above? Time will tell for sure.
Many of these picks seem like longer shots than others. That said, a one-season arc on You is my top pick. It would not require a super extensive commitment, and it would be something unexpected.
Whatever happens, you can currently watch Kevin Costner as John Dutton on his current television series. New episodes of Yellowstone air Wednesdays at 10 p.m. ET on the Paramount Network. The dramatic Western is part of summer television's fresh content.
Your Daily Blend of Entertainment News
Like a contented Hallmark movie character, Britt happily lives in the same city she grew up in. Along with movies and television, she is passionate about competitive figure skating. She has been writing about entertainment for 5 years, and as you may suspect, still finds it as entertaining to do as when she began.