Bachelor In Paradise Couples Most Likely To Get Engaged In The Finale, Ranked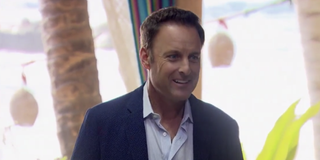 Major spoilers ahead for the September 10 episode of Bachelor in Paradise on ABC!
Only one episode is left before Season 6 of Bachelor in Paradise comes to an end, and it's been a Blake-tastic wild ride from start to finish. The September 10 episode was a figurative bloodbath as Chris Harrison cut down the remaining pool of singles looking for love to select committed couples.
By cancelling the cocktail party and telling the contestants to start having serious conversations and decide whether they're ready for overnight dates in the fantasy suite, he guaranteed that some of the less strong relationships would break. The biggest shocker of the evening may have come when Tayshia Adams responded to wedding ruiner John Paul Jones' confession of love by saying she wasn't ready, and although she burst into tears and raced into his arms later to apologize, both left Paradise alone.
After the bloodbath was over -- including a particularly painful moment when Bri Barnes turned down a rose from Luke Stone in a Bachelor in Paradise first, prompting Chris Harrison to ask if anybody wanted a rose from Luke, leading to crickets chirping and Luke bowing out -- there were only four couples left in the mix: Dylan Barbour and Hannah Godwin, Chris Bukowski and Katie Morton, Clay Harbor and Nicole Lopez-Alvar, and Demi Burnett and Kristian Haggerty.
Well, there's still a week to go before Bachelor in Paradise confirms which couples end the season engaged, which are happy to wait and see what happens, and which are done for good. (Or at least until Stagecoach.) Nothing is certain, but read on for my spoiler-free rankings of the four couples and their odds of getting engaged by the end!
4. Clay and Nicole
Once upon a time, Clay and Nicole would have been toward the top of my list of couples likely to be ready to tie the knot by the time the finale rolled around, but times have changed! They were one of the earliest couples to hook up and stay together, and their relationship survived the ugly twist of Jordan Kimball picking a fight with Christian Estrada on Clay's behalf (although Clay did specifically ask him not to) after Christian started trying to woo Nicole.
But then, there's the question of whether Nicole would have stayed with Clay rather than Christian if Christian (and Jordan) hadn't gotten booted from Paradise after the piñata fight, and what seemed like Clay's cool head has turned into a reluctance to commit and weird preoccupation with ex Angela Amezcua. He hemmed and hawed when Nicole tried to get his opinion about their future, when that future would have meant either Nicole leaving Miami for Chicago to live with Clay or vice versa.
It was an important question that needed to be answered, but he wouldn't give her a direct answer about what he saw in the future or drop the big L word despite Nicole trying to kickstart the conversation. Nicole seems mature and clear enough about what she wants that I could see her ready to settle down; Clay, not so much, and I'm guessing he'll try to pull out or Nicole will give up on his refusal to commit in the finale. And I was rooting for them, too!
3. Chris and Katie
Sorry, Chris and Katie, but you two rank as my third least likely of the four remaining couples to end up ready to say "I do" by the end of Bachelor in Paradise Season 6. Katie seems optimistic about their odds despite some ups and downs, and it's hard to blame her for seeing the sunny side of her situation. After all, she's getting very close to becoming the woman who convinced a repeat Bachelor franchise offender to finally settle down, and Chris isn't exactly looking at other women.
Unfortunately, he's also been kind of lukewarm in his relationship with Katie, and he hasn't always risen to the occasion when she's been clearly upset about something. If anything, he comes across as hesitant and uncertain, which contrasts with Katie's drive to be direct by this point in the game and clear about what she's looking for.
I'm not sure that Chris was ready to come out of Bachelor franchise retirement, and I'm not sure Katie would be best off with him in the long run if he doesn't warm up. If she's going to bed in tears days before getting engaged, something may be a little bit too wrong to be resolved.
2. Demi and Kristian
Demi and Kristian have been a one-of-a-kind pairing on Bachelor in Paradise due to their status as a same-sex couple on a series that usually has men and women distributing roses to each other in turns. Chris Harrison revealed that the rules didn't really apply to Demi and Kristian once Kristian joined the series despite not being a Bachelor franchise alum, and while I was definitely not on Team Demi after she broke Derek's heart and then stayed in Paradise to flaunt her happy relationship with Kristian in front of him, Demi and Kristian do make a cute couple.
They were also the only couple not in danger of breaking up because one of them was tempted away by another single on Bachelor in Paradise. They were set on each other, and if they broke up, it would be because of their own issues rather than because of wandering eyes. Demi has been openly uncomfortable when the subject of engagement is brought up, and she has struggled with displays of affection and Kristian's openness with them. For a while, it seemed like they could split and leave Paradise.
But as of the end of the September 10 episode, Demi was excited to show Kristian how much she loves her in the fantasy suites, and they were snuggled up quite cozily while listening to Chris Harrison explain what would happen next. Their course of true love hasn't run smoothly, but I would definitely put their odds of engagement or at least still being together by the end of Season 6 much higher than Chris/Katie and Clay/Nicole.
And that leaves us with...
1. Dylan and Hannah
Dylan and Hannah, of course! From the very beginning of Bachelor in Paradise Season 6, one half of Dylan/Hannah has been utterly devoted to their future together. Dylan has doted on Hannah all along, and for a while he was so clingy that he struck me as more of a koala than a future husband to Hannah. Of course, Hannah at the time was being wooed away from Dylan by Blake Horstmann during the height of the Blake drama.
Fortunately for Dylan, Hannah wasn't preoccupied by Blake for too long, and they've been so sweet with each other for weeks now that they've become one of the less interesting couples of Paradise! Aside from some friskiness on Dylan's birthday that got some giggles from the other singles in Paradise, they've mostly been snuggling with each other or giving advice to the others. No suspense at any rose ceremonies for these two, and both spent the September 10 episode talking about their future together. I'd be genuinely shocked if Hannah doesn't have a ring on her finger by the end of the Season 6 finale.
All of this said, I've been shocked by the Bachelor franchise before, so who knows? Maybe Hannah and Dylan will have an ugly breakup, while Clay and Nicole get engaged and end the season well on their way to a happily-ever-after. We'll all find out when the Season 6 finale of Bachelor in Paradise airs on Tuesday, September 17 at 8 p.m. ET on ABC.
Your Daily Blend of Entertainment News
Laura turned a lifelong love of television into a valid reason to write and think about TV on a daily basis. She's not a doctor, lawyer, or detective, but watches a lot of them in primetime. Resident of One Chicago, the galaxy far, far away, and Northeast Ohio. Will not time travel, but will sneak references to The X-Files into daily conversation.
Your Daily Blend of Entertainment News
Thank you for signing up to CinemaBlend. You will receive a verification email shortly.
There was a problem. Please refresh the page and try again.