The Blacklist: Five Moments That Need To Happen In Season 7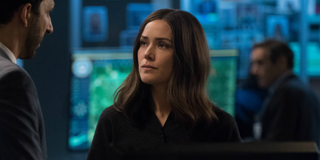 The Blacklist Season 7 is almost upon us and there are five moments that this fan desperately needs to see! I cannot wait for the new season to start, which will undoubtedly be filled with lots of exciting twists and unforgettable turns. After all, this is The Blacklist.
While there are a lot of questions going into Season 7, there is some hope that there will be some answers. If you are ready for more to snap into focus, then you know there is a lot to anticipate. These are the five moments that I hope happen when The Blacklist returns!
1. Dembe, Liz, and The Task Force Save Red
Last season, Dembe made a thrilling re-entrance after some time away following a falling out with Red. Dembe returned and saved the day! A new promo for Season 7 reveals that he will reach out to Liz to inform her of Red's disappearance. That seems to lead to Dembe, Liz, and the Task Force teaming up to find him!
I am so excited at the thought of seeing them all working together. As shown in last season's finale, The Blacklist always thrives when it focuses on a collaboration between the characters. The Task Force is currently without a critical member, which means they will have to save Red without Samar.
I hope that they all play a major role in saving Red. Promotional pictures put his chances at making it out of this on his own look pretty dire. Plus, he is being held prisoner by Katarina and what is likely a formidable army of Rostova security personnel. Dembe, Liz, and the Task Force should be more than up to taking them down!
2. Katarina's Agenda Readily Revealed
Following the last season finale, it was tough-to-impossible to figure out why Katarina drugged and kidnapped Red. As Season 7 has gotten closer, there has been some clarity. Katarina wants to know something from Red. From his secret identity (which she supposedly knows) to a mystery ailment, the possibilities are pretty endless.
The Blacklist loves its secrets, and I love waiting to see them exposed. That said, I hope Season 7 will quickly reveal what it is that Katarina is after. With the mystery of Red's identity still mightily secure, definitive answers about Katarina would be a nice respite. The series has surprised viewers in the past with huge reveals.
The story involving Katarina's estranged husband, Constantin, provides one such example. Learning what Katarina's agenda is would have equally far-reaching implications. Having been confirmed as a significant "big bad" for the series, it would seem she is not an anti-hero after all. Kidnapping Red was already a pretty big hint at that.
3. Liz and Katarina Meeting As Mother And Daughter
People have had a history of entering Liz's life under false pretenses and it has always led to a great storyline. The Blacklist seems ready to possibly toy with that again. Could Katarina take on the role of a deceptively embedded imposter? Maybe. If not, Season 7 is the perfect time for Liz and Katarina to have a face-to-face meeting minus any false pretenses.
Liz knows her mother is out there, but still brought her daughter home, taking Red's assurances to heart. As Red has learned the hard way, Agnes' grandma is more dangerous than he thought. If Katarina enters Liz's life as a pretender, I hope Liz's instincts will kick in and she figures it out quickly.
This viewer is excited to unpack all the years of emotional turmoil between Liz and Katarina. Plus, explore the pair's long-awaited dynamic as mother and daughter. There is so much to sift through! Time to get started. An honest heart-to-heart after a false start would be something to behold.
4. Learning The True Nature of Red and Katarina's Relationship
Red and Katarina – what a pair! Fans have heard Red muse about her throughout his timeline. The implication has been that he has intimate knowledge of his maybe future nemesis. Red has proven that he does indeed time and again, so while he may not be Raymond Reddington, he is someone very close to her.
I am ready to find out how close Red and Katarina really are and what went on between them. Clearly they kissed, so there is/was something beyond platonic about their relationship. Whether Red is Ilya Koslov or he is someone else, he is clearly not related to Katarina.
If he is not Ilya, then he is some other stranger who, like Ilya, the real Raymond Reddington, and Constantin Rostov, had an infatuation with Katarina. Did she reciprocate? From what is known about Season 7, it is tough to say. If she did, they have clearly hit a rough spot.
5. Red's Real Identity Revealed
I know this is a long-shot moment to hope for, but just let me have this wish! The Blacklist has successfully teased Red's true identity for an entire season. At first, by giving answers and then making me question how the missing pieces could fit.
The good news is that The Blacklist's creator, Jon Bokenkamp, has said that show will not end without answers about who Red really is. However, the longevity of the secrecy surrounding his real identity could be quite open-ended. Finding out who Red really is, is only part of the mystery. Once that gets revealed, the question of who that person started out as should supply just as much intrigue.
Heading into Season 7, the stage seems set to illuminate at least some part of Red's true identity. Viewers know who he is insofar as he has shown his character and personality over the years. Now the question is who he is. That complex puzzle has had no shortage of pieces with another possibility for the identity of Ilya Koslov and Red, among them.
The Blacklist is bound to excite! There is so much to look forward to. After a season that dealt out one surprising twist after another, the NBC crime drama is ready to unleash even more. From the truth about Red to the reality of Katarina Rostova, Season 7 is set to be sensational!
Find out if these moments happen when The Blacklist returns this fall. Season 7 premieres Friday, October 4 at 8 p.m. ET on NBC. Catch up on past Blacklist moments via Netflix, along with lots of new content.
Your Daily Blend of Entertainment News
Like a contented Hallmark movie character, Britt happily lives in the same city she grew up in. Along with movies and television, she is passionate about competitive figure skating. She has been writing about entertainment for 5 years, and as you may suspect, still finds it as entertaining to do as when she began.
Your Daily Blend of Entertainment News
Thank you for signing up to CinemaBlend. You will receive a verification email shortly.
There was a problem. Please refresh the page and try again.