BoJack Horseman's Creator Thinks 'It's A Shame' That Netflix Changed Its Cancellation Policy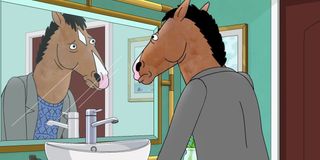 When BoJack Horseman premiered on Netflix in 2014, the streaming service was still relatively new to the world of original programming. Back then, Netflix didn't care about ratings in the same way traditional networks did and they largely stuck by that. In the wake of Tuca & Bertie's abrupt cancellation, however, BoJack Horseman creator Raphael Bob-Waksberg thinks "it's a shame" that Netflix has changed its cancellation policy.
In the early days, shows like BoJack Horseman took some time to build an audience. With so many shows to watch now, not everyone is sitting down to binge the series during its opening weekend. BoJack's creator argues that the streaming service is no longer allowing its shows the time to build the audience the same way that it used to.
In an interview with the Los Angeles Times, BoJack Horseman's Raphael Bob-Waksberg, an executive producer on the recently cancelled animated series Tuca & Bertie, shared his feelings about Netflix's new cancellation model and he isn't a fan.
Raphael Bob-Waksberg offers some food for thought regarding Netflix's changing policy. This year alone, the streaming service not only cancelled Tuca & Bertie after one season, though it's being shopped around to other networks, but also axed the beloved and critically acclaimed comedy One Day at a Time. It left many wondering why ratings were suddenly more important to Netflix's decision making.
When looking at it that way, BoJack Horseman, which is currently in its sixth and final season, might not have gotten past Season 1, especially since audiences didn't find it until much later. However, it seems likely that Netflix will continue centering renewals around ratings.
It was made obvious that Netflix now views those numbers as very important when it released its ratings report last month, citing which TV shows had landed the most viewership over the last year. This list was based on the number of people who had watched at least 70% of any individual series. Regardless of how the ratings were tabulated, though, it was clear Netflix had shifted its stance on the use of ratings in renewal decisions, especially considering that the company had never released such rankings to the public before.
Thankfully, Bojack Horseman did go on for as long as it did, and it's now considered one of the best shows on Netflix. The first eight episodes of BoJack's sixth and final season arrived on Netflix in October, with the remaining eight episodes set to drop on January 31, 2020. While on the topic of Netflix, be sure to check out our ranked list of the best original shows the streaming service has to offer.
Your Daily Blend of Entertainment News