The Blacklist: 7 Red Hot Questions Season 7 Already Has Us Asking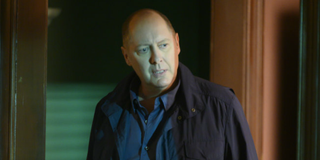 (Image credit: Scott Gries / NBC)
The Blacklist has this fan asking some "Red" hot questions at this point in Season 7. It has been an exciting season so far with loads of shocking twists and turns. Now, it is gearing up for that much-anticipated showdown between Red and Katarina. Questions continue to abound about the one-time friends turned opponents.
So far, Katarina has been ingratiating herself to an unwitting Liz. Meanwhile, Red goes in and out of trying to stop Katarina. It has set The Blacklist on the course of a mental battle between the believed-to-be former allies. There have been hints everything may not be what it seems, but what is? Here are the questions Season 7 has me pondering.
Why Does Katarina Not Know Ilya Koslov?
Nestled inside The Blacklist episode "Kuwait" was a scene of Katarina learning about Ilya Koslov. I say "learning" because she seemed to be completely unaware of who on earth that is. That reaction does considerable damage to the claim that Ilya is Red. Why? Because according to the flashbacks, there is no way that Katarina would not know Ilya.
He is the one that supposedly masterminded the switch and pitched it to Katarina. According to the account courtesy of Katarina's dad, Ilya was also a childhood friend of Katarina's. What is going on? So many pieces fit. Of course, others do not.
Is It Time To Go Back To The Drawing Board With Ilya?
Not necessarily. The guy does have a file with a picture. He is not a complete fiction. Right? Red talked to that mysterious stranger, who opened the veracity of the Ilya story up to interpretation. If it is back to the drawing board, The Blacklist has not brought viewers all that closer to the truth. Or has it? There have been clues.
Ilya Koslov is clearly not a guy that Katarina Rostova knows. There could be more to the story. Remember, the mysterious stranger has been teased to eventually provide some answers. Red came awfully close to confirming his identity as Ilya to Harold Cooper, but that could have been another "Red" herring. It is tough to tell at this point.
What Went Down Between Dom And Katarina?
Viewers learned that the rift between father and daughter has grown so terrible that Katarina was willing to kill Dom. He got shot when Katarina attempted to get Red back, leaving fans to wonder if The Blacklist was going to kill off the integral character. Dom is still alive, and Katarina has left him alone, so there is that.
Nevertheless, there is clearly no love lost between her and her father. Dom's health remains in a tenuous place. He has not been shown since Liz visited him. The Blacklist has provided few updates as to what led to Katarina's feud with her father. There were some clues as to the origins of her animosity. However, a clear picture remains elusive.
Why Is Katarina Surveilling Liz?
Since Katarina blew into town on The Blacklist, she has been working Liz as her next-door neighbor. Her cover is as a retired mother wanting to reconnect with her estranged daughter. Liz has bought it hook, line, and sinker. And that's not all.
Katarina has been watching Liz. She even installed a secret surveillance device using one of Agnes' dolls. Why Liz and not Red? What is it that Liz knows or can lead her to that trying to find Red will not? It just seems strange that she is choosing to make Liz her main target. To what end?
What Does Katarina Want?
On that note, what is it that Katarina wants on The Blacklist? Or perhaps, who is it that she wants? Katarina wants to know who is after her, but Red is keeping that from her. He went through a lot to not reveal that secret. Why? What is so crucial about concealing this info from Katarina?
It feels like The Blacklist is giving viewers hints and teases as to what is really going on, but I feel like there is a major missing piece. Katarina blames Red, and some other unidentified man, for controlling her, and she believes she was betrayed. She is on the warpath. What paved it is hard to tell for sure.
Does Liz Have A Secret Sibling Through Katarina?
As previously discussed, Katarina got me all kinds of excited when she hinted that Liz may not be her only child. Her exact words were that she missed having "children" -- as in more than one. The Blacklist has not directly indicated that Katarina has another child besides Liz, nor has the show revisited the seeming reveal. Did it mean something? My instinct says "yes."
I really want Liz to have a brother. Potentially an older one who has been in deep cover as a Russian agent for years. They could meet and clash before Katarina ends their fight with the truth! Wishful thinking aside, there is now a concrete clue that such a plot is possible. Could this covert sibling be the motivation behind Katarina's recent activities? Maybe.
What Is Going On With Aram's New Girlfriend?
Aram has been in a world of heartache after the tragic ending of his and Samar's love story. In a bit of a rebound, he has found himself taken with a married woman he helped during a case. Her name is Elodie Radcliffe and her behavior continues to escalate with every episode of The Blacklist.
She even convinced Aram to hook up in a stranger's mansion while they were out. Elodie claims she is trying to push Aram out of his comfort zone, but it seems more sinister than that. Breaking and entering, voyeurism... it is criminal. Does she have a secret agenda, and if so, what is it? I want Aram to find true happiness, not infatuation with a possible psychopath.
Of all the questions, those surrounding Red's identity and his recently confirmed sickness have gone on the longest, making them the "Red" hottest to answer. The mystery of who Red really is has technically been going on since The Blacklist's Season 5 finale. His sickness has been hinted at since last season.
Are answers on their way? Part of the fun is The Blacklist unpacking clues and giving away breadcrumbs. I predict that Liz will at least learn that her mother is alive before Season 7's midseason hiatus. More mysteries continue to unfold. Here is hoping answers follow suit.
Tune in to see if any of these questions are answered when new episodes of The Blacklist air this fall! The action happens on Fridays, at 8 p.m. ET, on NBC. To refresh your memory on answers provided in previous seasons of The Blacklist, you can stream them on Netflix, along with lots of upcoming content.
Your Daily Blend of Entertainment News
Like a contented Hallmark movie character, Britt happily lives in the same city she grew up in. Along with movies and television, she is passionate about competitive figure skating. She has been writing about entertainment for 5 years, and as you may suspect, still finds it as entertaining to do as when she began.