R.I.P. Daybreak: Netflix Cancels Fan-Favorite Show After Just One Season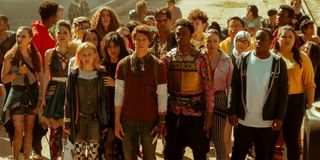 Netflix and cancellations have become a hand-in-hand pairing this year. The streamer cancelled the beloved One Day At a Time, Tuca and Bertie, and quite a few other shows throughout 2019, and now Daybreak has joined the growing list. The fan-favorite show, which drew comparisons to the bloody and violent cult classic Battle Royale, is being axed after just one season.
Daybreak Season 1 hit Netflix on October 24, so the news of cancellation came as a surprise. The show's executive producer and co-creator Aron Coleite took to Twitter to share the heartbreaking news with fans. Here's what he wrote:
As a post-apocalyptic teen dramedy, Daybreak pushed boundaries in the genre the way other shows' debut seasons didn't, and it quickly developed a faithful following of fans after only a month of streaming. The series featured an all-star cast, including Matthew Broderick, Krysta Rodriguez, Supernatural's Colin Ford, and Atlanta's Austin Crute.
It's no secret that Netflix has quite a library full of original series, so it's sometimes hard for individual shows to gain traction without marquee stars or popular source material. There's also the issue of marketing and, with so much content overall, Netflix is leaving some shows by the wayside. Daybreak faced even more of a challenge because the streaming giant hasn't really allowed enough time for the dramedy to flourish on its own terms, which is how Netflix usually handled newer series in the early days.
BoJack Horseman creator Raphael Bob-Waksberg, for example, thinks "it's a shame" Netflix has altered its cancellation policy. He's convinced that his highly acclaimed animated series, which took time to build an audience beyond hype-flinging critics, would've never made it to six seasons or gained much of an audience if Netflix had pulled the plug as early as it has with certain shows like Daybreak.
Netflix wasn't so fixated on ratings back then, but this year saw the release of its first (still somewhat murky) ratings reports. For instance, audiences learned that Stranger Things was the most watched show from the last year, with 64 million viewers tuning in to at least part of the horror series' third season. It's unclear whether anyone from Netflix will confirm ratings numbers for Daybreak, but it might help the early cancellation sting that much less.
Season 1 of the dramedy is still available to stream on Netflix, so long as you watch knowing there won't be a Season 2. For more on what to watch on network television and streaming platforms, be sure to check out our 2020 midseason schedule.
Your Daily Blend of Entertainment News
Thank you for signing up to CinemaBlend. You will receive a verification email shortly.
There was a problem. Please refresh the page and try again.