Will The Conners Hurt Becky's Chances For Happiness After Having The Baby?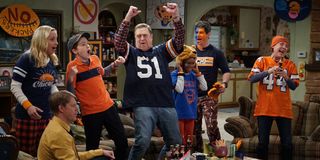 Warning: Spoilers ahead for the most recent episode of The Conners. Come back once you've caught up!
All fans of The Conners know that Becky has had a very rough time in her life, especially lately. She lost her husband at a young age, thought (for years) that she wouldn't be able to have her own kids and relied on alcohol and sex to numb the pain and feel worthy. But, after getting pregnant she decided to clean up and work hard to change her life, and now that her preemie, Beverly Rose, is out of the woods, Becky has started dating again. But, will her crazy family make it even harder for her to find a good guy?
When we meet up with the Conner family again after winter hiatus, the family is all together for dinner (even Harris) and Dan tells them he wants the whole clan to dress appropriately on Sunday for the Bears vs. Packers football game. When he, DJ and the kids leave the kitchen, Becky reveals her big news to Jackie and Darlene: she's been dating a guy named Wyatt for about a month and has invited him over to watch the game with them.
It might seem rather sudden, but Becky didn't just meet Wyatt. She had actually gone out with him back when she was still drinking and made quite an impression when she threw up during their mini-golf date (into the clown's mouth, I believe). But, she remembered how well Wyatt took it. He texted her that he had fun, but told her she was clearly a "blackout drunk" and needed to get help.
After Jackie asks about Emilio (Beverly Rose's dad who got deported while Becky was pregnant) and Becky tells them that they decided to go ahead and see other people since he doesn't think he can get back to the U.S., it becomes obvious that Becky has high hopes for a future with Wyatt, because she has a lot more good things to say about him.
Apparently, Wyatt doesn't run when the check comes after dinner and he even leaves a tip. He also told her she was hotter sober after running into her with Beverly Rose, and isn't worried about her having a baby. When Darlene claims there must be a catch and that it has to be that the sex is bad, Becky admits they haven't even gotten that far yet, and it's fine with both of them.
So, what's the problem? Well, Wyatt gets off on the wrong foot with the very particular Conner family and it leads to things not going well during the game at all. His first offense? He showed up to a Bears house wearing a Packers fan cheesehead. Jackie told Wyatt to run, but he decided not to listen.
Now, these games, and rooting for the Bears, are a big freakin' deal for the Conners. As Dan told Mark, it's about the tradition of it, because Dan's dad got him into the sport and he likes that he's done the same for his family and it's something they can enjoy together. While Wyatt admits that he just thought the cheesehead was funny, he also didn't realize how serious they took the games, so he apologizes, but it just goes downhill from there.
Wyatt, trying to be nice, brought his homemade, mango-filled trail mix (when the family's snack of choice is any kind of mayonnaise-based "salad") and beer (a fancy-ish IPA which Jackie said stood for "I Pee A lot when I drink beer"), and neither went over well. The family cheered when a Packers player got a little hurt and Wyatt chided them for it, saying as a Christian he'd never want someone to get hurt. Oh, boy.
He's also got a lot of factoids about football, and, after getting too much guff from Dan the rest of the Conners, he decides to throw in the fact that the Packers have four Super Bowl wins under their belts, which prompts Dan to call him a loser. Later, Wyatt says that football is just entertainment, "like a magic show," and that if the fans paid as much attention to other areas of their lives they'd be further along.
This was the last straw for Dan, who told him that sometimes people need a win to get through the week, and if football helps with that, who is Wyatt to make light of it? Becky can tell that Dan is not taking any more of Wyatt's attitude, so she leaves with him. But, while in the car, he also manages to piss Becky off by insinuating that her family and their anger was the reason she drank and called them "toxic."
Obviously, Becky is having none of this and gets so mad she attempts to throw Wyatt out of his own car. When she talks to Dan about it later, he gives her solid advice, noting that she just got sober and this is the first guy she's dated while not drinking, so she can't expect to hit it outta the park right away.
While Dan is absolutely right in what he told Becky, there are sort of two ways to look at what happened during the game. It's possible that the Conners helped her realize that Wyatt wouldn't be right for her by exposing how he viewed her family, but, it's also possible that bringing him into such an important situation so early might have ruined a good thing. If they'd kept getting to know each other away from the important family tradition for a few more months, maybe this could have gone differently.
Becky will probably keep dipping her toe in the shallow Lanford dating pool, so we can see how she balances who she likes with who gets along with her family as The Conners continues on ABC, Tuesdays at 8 p.m. EST.
Yennefer's apprentice, Gilmore Girl; will Vulcan nerve pinch pretty much anyone if prompted with cheese...Yes, even Jamie Fraser.
Your Daily Blend of Entertainment News
Thank you for signing up to CinemaBlend. You will receive a verification email shortly.
There was a problem. Please refresh the page and try again.