Loki's Tom Hiddleston Is Looking A Little Rusty In Behind-The-Scenes Video For Disney+ Show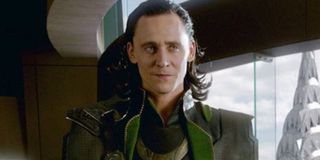 Tom Hiddleston's Loki is like a cat with nine lives. The God of Mischief died at the hands of Thanos at the very beginning of Avengers: Infinity War, but came back by way of time travel in Avengers: Endgame. Now the star of his own Disney+ series, Loki will pick his story up after his disappearance in Endgame. A new behind-the-scenes video showcases Hiddleston's prep work for the Disney+ show, hinting that he's in for potential high-flying action, but the actor is humorously looking a little rusty.
It's likely been a while since Tom Hiddleston has appeared in major action sequences within the Marvel Cinematic Universe, but that might soon change. In a behind-the-scenes video shared to his Instagram, the Loki star is hooked up to a harness and launched quickly into the air. However, it's unclear whether Hiddleston was meant to land in a crouch or standing up, and he planted on his face instead. Ouch. Check out the full video below!
It sure looks like Loki will have his work cut out for him in the short leaps department. It's unclear if Tom Hiddleston is specifically prepping for a fight scene or action sequence during the clip. Hiddleston's hands are clenched in a fist, which could be a sign, but if you pause the video while he's still above the mat, his flight looks quite graceful, especially compared to his landing.
Thankfully, the mat was there to prevent Tom Hiddleston from harm and/or further minimal embarrassment. One can only wonder if Loki would have giggled while watching.
Now that time travel has been introduced into the Marvel Cinematic Universe and Avengers: Endgame saw the 2012 version of Loki stealing the Tesseract and disappearing, expect Thor's wily brother to pop up in a different time period to stir up trouble. Previously revealed concept art showed the God of Mischief standing in front of a theater showing Jaws in the 1970s, though little else is known about what he'll be doing throughout the series.
While there isn't a lot of information about the plot of Loki, directors Anthony and Joe Russo confirmed that the Disney+ series takes place in an alternate timeline, which was created after Avengers: Endgame's Loki escaped capture. Might Tom Hiddleston be prepping for an action sequence in another time period? I wouldn't be surprised if he was. While Hiddleston's Instagram video isn't much to go on, plotwise, it gets fans excited about the Loki series and the mischievous villain all over again again.
With showrunner Michael Waldron leading the way, Loki is scheduled to premiere on Disney+ in 2021 and will be connected to the MCU film Doctor Strange in the Multiverse of Madness. While fans wait for more information on Loki, there are two other Marvel shows coming to Disney+ later this year, so keep an eye out for WandaVision and The Falcon and the Winter Soldier. For more on what to watch on cable and streaming, be sure to check out our 2020 midseason schedule.
Your Daily Blend of Entertainment News