Stranger Things' Gaten Matarazzo Had Surgery For Bone Disorder, So Expect Changes For Dustin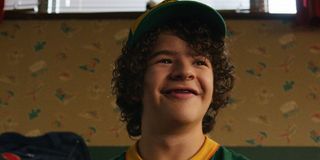 It's time to send Stranger Things' Gaten Matarrazo all the well wishes and positive energy you can muster, because the actor recently had surgery for his cleidocranial dysplasia (CCD), the rare birth defect that affects the growth of teeth and bones. Since Matarrazo's condition was written into the Netflix series, fans can expect some changes for Dustin Henderson in Stranger Things Season 4.
Gaten Matarrazo recently posted an image of himself in the hospital, offering fans an update regarding his then-upcoming surgery for CCD. In the picture, he's wearing a hospital gown while giving a thumbs-up sign to the camera. He's smiling, but also seems a bit nervous about the surgery. Matarrazo's caption confirms that this was his fourth surgery for his CCD and that the operation was an important one. Check out his post below.
The Stranger Things actor doesn't provide any further information about the surgery, nor does he offer any additional context about the procedure and whether there will be further surgeries after this one. However, he does encourage people to learn more about the condition by going to the website for CCD Smiles. The foundation was started by Dr. Kelly Wosnik in 2013 and, with Gaten Matarrazo's help, it was turned into a non-profit organization in 2017.
Gaten Matarrazo has been open about his condition throughout his career so far. When he was cast in Netflix's Stranger Things, series creators The Duffer Brothers went ahead and wrote Matarrazo's CCD into the show. In Season 1, Matarrazo's Dustin explained to bullies about his condition, which was also the reason why he was missing his teeth in the first season. In Season 2, Dustin began wearing dentures, which continued to parallel the actor's real-life experiences with CCD.
However, while Gaten Matarrazo posted to Instagram about his surgery, he didn't specify how long it would take him to recover or whether the operation could potentially affect his role in Season 4 of Stranger Things. Will Dustin also have his own surgery in Season 4? It's not impossible, especially with the way the Netflix series has mirrored Matarrazo's experiences with CCD in the past.
While fans wait for updates, a few of Gaten Matarrazo's Stranger Things co-stars commented on his post to wish him well. Here's what Millie Bobby Brown wrote:
Meanwhile, Matty Cardarople, who plays the recurring character of Keith on the show, offered his own words of encouragement to his co-star. In his words:
We here at CinemaBlend hope that Gaten Matarrazo had a successful surgery and wish him all the best in his recovery. Stranger Things Season 3 is currently streaming on Netflix. The series has been renewed for Season 4 but does not yet have a scheduled release date. While you wait for the show to return, be sure to check out our 2020 midseason schedule for updated premiere dates and times.
Your Daily Blend of Entertainment News